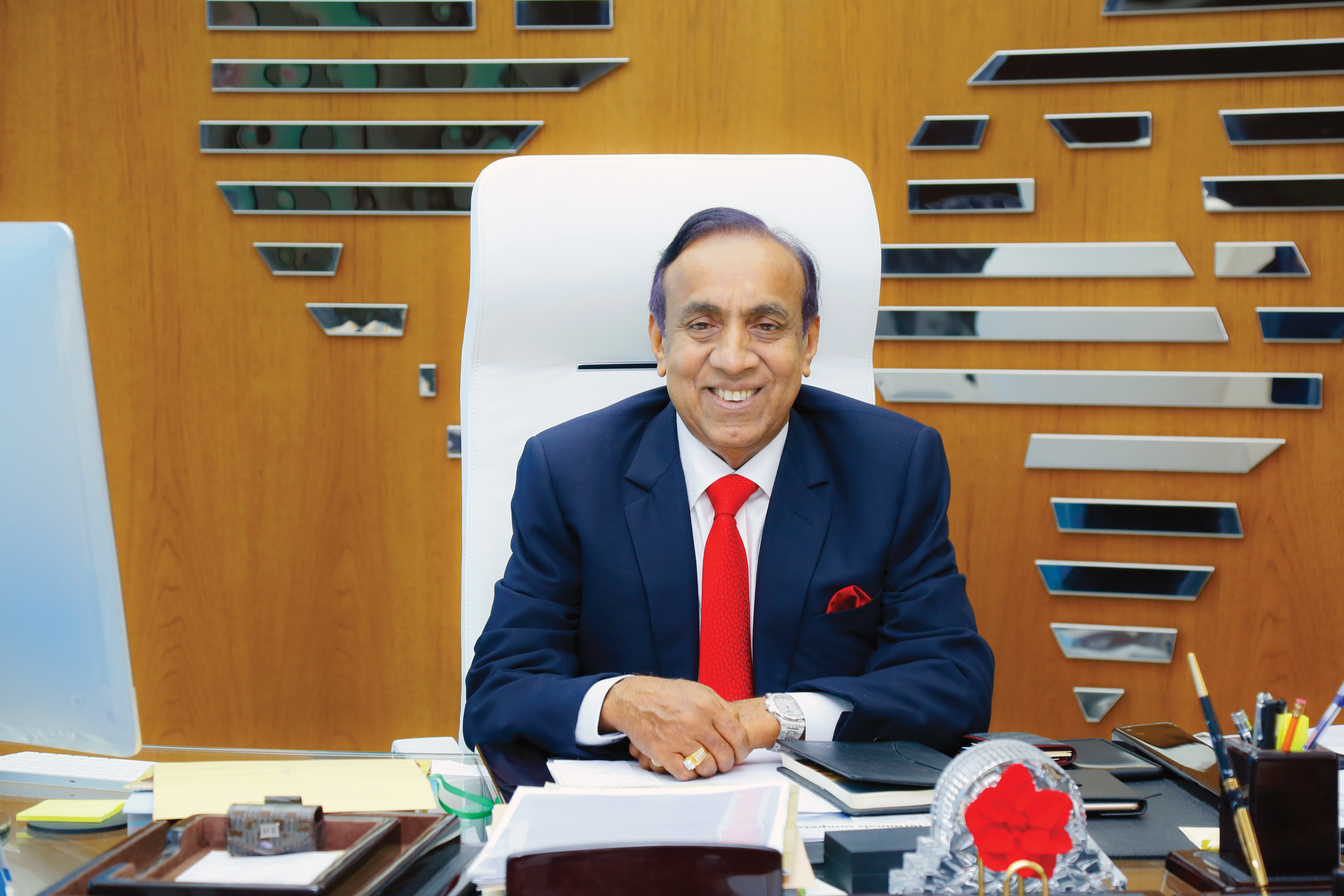 Entrepreneur, Dr. Ravi Pillai's success story is one that inspires every young entrepreneur. From humble beginnings, the son of a farmer from the southern Indian state of Kerala, Dr. Pillai is now Chairman and Managing Director of Middle East based RP Group of Companies.
A global conglomerate, RP Group today is involved in construction & infrastructure, healthcare and wellness, education, real estate, hospitality, Information Technology, travel & tourism and retail & malls, with a combined turnover of more than $5 billion, a workforce of 120,000 plus and an operational footprint that extends across nine countries. The group is famed for its rich resource pool of professional, dedicated personnel and its ability to maintain the highest standards of excellence in all its activities.
As early as 17 years of age, Dr. Pillai began dabbling in trading in his home state of Kerala, and soon after college graduation, entered into the construction business. Despite no background of business and no one to hold hands, he became successful doing construction work for some of South India's biggest companies. However, unforeseen challenges stifled his blossoming business, though he was not deterred. "You have to trust in yourself first," said RP Group Chairman, Dr. Ravi Pillai. "If there is a will, there is a way. Without self-confidence, you can't win."
Armed with determination and faith, he moved to Saudi Arabia in 1978. At that time oil price was around $9 – $10 per barrel, however there were multiple business opportunities in Saudi Arabia. He started his journey with 150 employees in Saudi Arabia. Though it was extremely difficult for Indian companies to win important projects in those days, his undying determination and hard work resulted in getting him infrastructure and defense related construction contracts. One of his early wins was a construction order for the Royal Air Terminal at Riyadh Airport. During the next five years, as the price of oil increased upwards of $25 per barrel, the company moved into industrial contracting, including oil and gas and petrochemical projects critical for nation development, and grew to 5,000 employees. Forty years later, he is considered one of the largest employers in the Gulf. The group employs over 120, 000 employees of various nationalities, including various GCC nationalities, Americans, Europeans and people from the Indian subcontinent.
"My true satisfaction comes from the happiness of my 120,000 happy employees, and their families which they support, which equates to almost 750, 000 people." says Dr. Pillai.
Dr Pillai's focus is on group's human capital, and he believes rest everything will follow. "Money is not everything, most important is to have a kind heart," said Dr Pillai.
RP Group is known for uncompromised business values of commitment, hard work & dedication, honesty and respect. "My policy is that money cannot be made with someone's tears, and must always be earned the right way." Says Dr. Pillai.
The Oil & Gas industry globally recognized Group's companies for giving safe working environment to their employees, by adhering to highest safety standards in the construction world, best amenities, facilities and care as an employer. Dr. Pillai say, "Our dedicated workforce is my real wealth. If you have money, you can accumulate assets, but you can't buy people's trust and commitment. I am fortunate to have committed people and the company has grown because of them. Only if an employee is happy can he or she give their best for the company."
Many employees have worked with him for almost three decades. Dr Pillai is delighted that many of his employee's children are doctors and engineers and a good number of them are working for the company. RP Group has grown phenomenally over the years. It has been one of the most trusted infrastructure development partners in the GCC for four decades and the group has delivered projects worth over $30 billion. These include working on some of the world's best refineries and petrochemical plants all over the GCC.
The group is very closely connected with the oil and gas giants in energy sector like Saudi Aramco, Kuwait Oil Company, Kuwait National Petroleum Company, ExxonMobil, Sabic & Its affiliates, Qatar Petroleum, Bapco, Maaden, Alba and several illustrious International Engineering Companies as well. Group companies have received numerous international awards including the recent ExxonMobil's global "Best Contractor" award and Samsung's "Best Partner" award. Group companies are a trusted partner of choice for their clients. Dr. Pillai says, "The biggest and the most demanding companies in the world who deal with us, know that they are at peace with responsibility on our shoulders, and know that the work we undertake shall be carried out by very skilled manpower, in a professional manner and deliver high quality output on time, even for some of the most complex jobs in the world."
Recently, one of the group companies entered the Guinness World Records – for completing the largest continuous concrete pour (of 19,793 cu m for 42 hours) in the world.
In 2011, the group entered IT sector and since then has been growing steadily in India, Middle East and USA. Over the last 20 years, RP Group operations expanded into real estate, hospitality, education, health care, trading, retail and IT sectors across the GCC as well as India, Korea and Australia and the USA. "It is very important to respect the laws and regulations of the countries we work in," said Dr Pillai. "Only then can we achieve success globally."
In the Indian tradition of 'Atithi Devo Bhava', where a guest has to be treated with the utmost respect, Dr Pillai established a chain of 5 star luxury hotels – the flagship property Raviz Kovalam, Ravi z Resort and Spa by the Lake Ashtamudi in his native Kollam, the Raviz Kadavu Resort on the banks of the River Chaliyar and a luxury city hotel, the Raviz Calicut. Dr. Pillai's hospitality portfolio also includes 5-star luxury hotels in Pune and Dubai.
RP Group's reach in Kerala also extends to the healthcare and wellness sector. It owns and manages the 300 bed multi-specialty Upasana Hospital at Kollam, a fully-equipped state-of-the-art facility, manned by a team of medical and para medical professionals. The hospital is also responsible for the nearby Upasana School and College of Nursing which offers graduate and post graduate courses. "We have a good name because of our commitment, quality, honesty and credibility," said Dr Pillai.
RP Group over the years has transformed from a highly efficient construction company into a diversified conglomerate.
Besides business, Dr Pillai is also mindful of sharing his wealth with the less fortunate. The Dr. Ravi Pillai Foundation works towards the betterment of humanity, with the lion's share of his earnings disbursed every year to the construction of homes, education, thousands of weddings, medical assistance and charity f or the underprivileged and needy.
Dr Pillai and his wife Geetha have two children – Ganesh and Dr Arathi. Both Ganesh and Dr. Arathi are following their father's footsteps by joining the business after completing their studies.
Throughout his career, Dr. Pillai has been honored with many awards from various governments and organizations. The government of India honored him with one of its most prestigious civilian awards, in 2010, the Padma Shri, for his outstanding contribution to the fields of business and charity.
He was also recognized by the Indian government with the Pravasi Bhartiya Samman Award in 2008, and has received numerous other honors and awards from around the globe for both his business and philanthropic contributions.
However, the best accolade for him is the happy faces of his employees. "Their happiness is my greatest reward," he added.
It is no secret that Dr. Pillai's 'Good Human Beings build lasting Business' motto is the true secret of his success.
The world is at present struggling under the clutches of Covid-19. As a business leader, how do you see this crisis? How the business community can be supported to surmount this crisis? And, what is your expectation about the post-Covid-19 world?

There are few events in the world that leave their long-lasting mark in the history books across the world.
As an entrepreneur, Covid-19 to me is a Black Swan event wherein there is a simultaneous but massive shock to the supply as well as demand side of the businesses across various industries and regions. Apart from the health-related challenges of this pandemic that is on top of everyone's mind, the lockdown which various countries were forced to impose has stifled the demand as well as disrupted the supply chain for various businesses. It goes without saying, just like countries will need years to recover the loss of GDP, businesses will also take time to recover the lost traction.
We have seen a very successful co-operation between various members of our society for coming together to fight the pandemic on healthcare front. Everyone – the government, law & order machinery, businesses and general public have all helped the healthcare professionals who are our frontline warriors fighting against Covid-19.
Similar to the menace of Covid-19, our next challenge collectively as a society is the stagnant economic activities. On this front, I see business leaders and entrepreneurs as our frontline warriors fighting to help us get back to the normal level of GDP, employment and prosperity. I believe, just like the health front, various members of the society need to bring their best foot forward to support the frontline warriors on the economic front as well. These members are everyone including governments, central banks and financial institutions, employees, customers, landlords, vendors and the general public. They all need to be together with the businesses during these difficult times and extend any and every cooperation they can to various businesses. While a lot is being done in this front as well, we need to look at best global practices and adopt these relief measures to the extent feasible here.


Just to give a few examples, globally various governments are giving tax breaks, economic assistance to maintain the staff strength (not reduce the workforce), special bailout package for the most affected industries, direct benefits transfer to the unemployed and jobless to prevent individual insolvency as well as maintain a basic level of purchasing power in the hands of lower income segment of the society to meet their essentials. Central banks have helped by infusing liquidity, buying the corporate loans and bonds, reducing interest rates as well as relaxing the norms on payment timelines of various bank loans for eligible businesses as well as individuals.
Due to the Covid-19 crisis, several Non-Residential Keralities have been forced to return to the state. As a director of NORKA Roots, what is your say on this issue? Can NORKA emerge as a saviour to address the concerns of those who have been forced to choose their lives over their dreams?
Yes, we are passing through one of the worst times. Kerala with one of the largest diaspora outside India has manifold problems. NORKA has been very proactive. We could set up NORKA help desk in several countries to guide Pravasis in the early days of Covid pandemic itself. Kerala has given the maximum number of approvals for flights to bring back people from Asia and the Middle East. Almost one third of flights operated under Vande Bharat Mission was to Kerala. Also, as many as 800 chartered flights were given permission by Kerala Government. This is the highest ever by any state in India. Hon. Chief Minister convened two video conferences with Pravasis and based on their feedback, Hon'ble Chief Minister has announced several relief measures including financial assistance to Pravasis who have lost jobs. NORKA department also has plans to create a skill pool of returnees, for them to gain employment later in Kerala.
India at present maintains a good relation with the Middle East. The Indo-Middle East business community, in which you are an important member, plays a huge role in the growth of this relation. How these two economic giants can support each other to sail through the present crisis safely?
A strong bond of mutual trust, respect and brotherhood has been the foundation of the strong economic, social and political ties between India and the Middle East for decades. This bond has only grown stronger in recent years. Both India and Middle Eastern Countries have demonstrated that " a friend in need is a friend indeed".
India has exported medicines like hydroxychloroquine and sent teams of medical professionals to countries like Kuwait, UAE, etc. to help them combat Covid-19. Given the sudden lockdown, many Indian citizens – not just those who work here but even visitors and tourists were stranded in Middle-East countries. All these countries have taken care of these stranded Indian citizens and treated the patients of Covid-19 amongst visitors and tourists as well, as if they were their own citizens.

Just like on the healthcare front, on the economic front as well I see many avenues of strong co-operation and mutual support. Middle-eastern sovereign wealth funds are always looking for good investment opportunities. India, given her demographics and fundamentals, is an attractive investment choice. The investment by these countries can infuse capital and help create businesses and jobs in India. We have seen record amount of investment in a single company announced from Saudi Arabia and UAE in the middle of this crisis (e.g., Saudi Wealth Fund investing USD 1.5 Billion and UAE's Mubadala and ADIA investing close to Rs. 14,700 crores in Reliance Jio platform). Similar such investments can be mutually beneficial to India as well as Middle-East.
How much disturbing the lockdown was for you? What are the structural changes you have brought in to the administrative structure of your company to transform the system in the way the time demands?
This has indeed been an ineffable and overwhelming time. One that I have not experienced in the past 42 years of my business career. The customary business culture which demands a lot of travel and interaction with people, this global culture has definitely taken a pitch pole.
During the Gulf war in the 1990s, was the last time I had faced a gruelling situation. It was a time that demanded my employees to reach their homes safely. I had made arrangements for Chartered flights for their safe travel, which I must say wasn't a very tough task at the time, in comparison to our current state of uncertainty.
The present situation makes countries cautious in bringing their citizens home whilst handling the pandemic domestically; as such is the dilemma faced by various governments. Covid -19 pandemic has caused panic and apprehension all over the world.
Health and safety protocols with respect to Covid -19 deterrence has become the highest priority. The same goes for my employees, many of them who do require reach their homes safely, has become my prime responsibility.
We have arranged chartered flights to various states of our country, for which we had ample support and coordination from the MEA (Ministry Of External Affairs). I highly appreciate all the support we received from the MEA (Ministry Of External Affairs), all State Governments, Embassies in the GCC in making this mission possible! We also ensured that our employees of other nationalities, travel home safely to countries like Philippines, Nepal and Bangladesh.
Secondly, as businesses need to continue in spite of the present state of affairs, we need to encourage our employees with good Healthcare and safety measures. This has prompted us to reorganize work conditions and ensure a more sterile environment. Our sites have been equipped with qualified Healthcare officials to tackle medical problems faced by our employees on a daily basis. Beds have been arranged in hospitals to ensure timely medical attention in case of any emergencies.
As of now, the relevant Health authorities have cautioned those above 60 years and the provision for traveling has become speculative to a large extent. Hence videoconferencing has become a routine of business and has become a boon. It has become one of my preferred means for communication and has helped me keep in touch with my team across various offices globally. The same goes for meetings scheduled with our various global clients. Time flies these days with the problems we face on a day to day basis.
Companies normally shift burden over employees when they face difficulties. But, your company was different. We have learned that your company has extended enormous support to your employees during this difficult time. Please share us about those initiatives.
This is the time for supporting one another and at the same time extending best understanding towards each other. I consider my employees as family. The biggest strength of my group has been my employees and I share a very personal bond with them. Most of them have worked with us for 30-40 years and have dedicated most of their time with us than with their families. I feel duty bound to take all possible care for them.
One of my biggest focuses has been the health & safety and well-being of my employees. By means of working with some of the biggest companies in the realm of Oil and Gas; my companies have had to adhere to the highest levels of health & safety standards and have been bestowed with numerous global awards for the same. Maintaining the same in a pandemic scenario like this is a very different kind of a challenge, we are doing everything possible to take care of our employees and their well-being.
Me, my family and my team are fully committed to do whatever we can, towards having the minimum impact of the current situation on our employees and their families, and give them maximum possible care towards their lives.
The tourism sector of the state is one of those sectors which have faced the heat of this crisis the most. Your group holds ownership in highly reputed hotels such as Raviz Kovalam, Raviz Astamudi and Raviz Kadavu and Raviz Calicut – which remain as the backbone of the state's tourism sector. Can the sector regain the impetus it has lost to the present crisis?


Unfortunately, tourism and international travel are the worst-hit sectors world over due to the pandemic. Between these 2 sectors, tourism will definitely take longer compared to other sectors to recover back to the level of activities that were seen in 2019. However, I do see some silver lining in these dark clouds:
* I think tourism will return in other countries including India. The young will venture out first. Travel will involve nearby destinations. Economy travel will recover more quickly. People would want to seek some sort of healing to the lockdown (or as it is called "revenge travel") by travelling outdoor and hence, nature-related destinations will be more popular than congested cities. Here, Kerala, God's own country, is the most obvious choice.
* As per RBI estimates, Indians spent roughly $ 1.6 Billion on international travel during summer holidays last year. Till the time a vaccine is developed, widely available and administered to public at large and is considered effective, International Travel (esp. non-essential like tourism) will remain handicapped as many countries are continuing stringent 14-day quarantine period for international travellers which is not practical for most tourists. Thus, all the tourists, Indians and foreigners alike, will be inclined to travel to explore domestic tourist destinations rather than international ones. Thus, unfortunately on one hand, India (& Kerala) may miss out on foreign visitors but Indian travellers are more than capable of compensating for this loss of business as they re-align their travel aspirations with the new normal.
* Ability to maintain social distancing and avoiding crowded cities as well as availability of good healthcare facilities will be the top factors that will influence the choice of tourist destination. Here again, despite my best efforts, I can't think of any other tourist destination that can even match Kerala on both these factors.
* With the present-day advancements in Research and Healthcare, the probability of a vaccine being discovered is unquestionable and is indeed possible at a faster pace. A recovery phase would demand a lot of healing which includes travel and leisure activities.
* With the Kerala Government doing a mighty task in controlling the spreading of Covid -19, Kerala has yet again proved worthy for safe tourism in the future.

Nestled in the secluded backwaters of the Arabian Sea near Trivandrum in Kerala is the five-star deluxe, Raviz Resort & Ayurveda Centre Kollam, a perfect blend of modern architecture and traditional designs of a bygone era. Clearly taking advantage of its scenic backwaters.
Designed to reflect the architectural splendour of the mystical Malabar region, the Hotel Raviz
Resort & Ayurveda Centre Kadavu, a five-star resort on the banks of the Chalayar river in Calicut.
The Raviz Kovalam Beach, Kerala, is a prized possession of the Group in picturesque Kovalam, a popular beachside destination in Kerala. The well placed 5 star Clifftop Beach property is spread over 65 acres of land Kovalam has also been well known for its most coveted Kovalam Palace.
During the post pandemic times , We at Raviz group intend to offer a safe yet enjoyable, world class tourism experience which will help further crown jewel of Kerala tourism.


RP Group of Companies is now one of the most promising business groups in this part of the world. We all know there is a struggle behind this group. Our readers may be interested to hear about that struggle. Please share.
I was born to a farming family with plenty of paddy fields and coconut plantations. I grew up understanding the limited scope of the agricultural sector at the time.
As I have walked in a farmer's shoes, I could learn of the challenges first hand and noticed the hardships of a farmer did not reward proportionate returns. Modern agricultural technology and practices at the time were not well known or available.
At the age of 17, I started my own business, which was of course on a small scale. As I did not have a business background I had no guidance, and I was my own teacher. There were no right and wrong decisions. Only choices that I bore complete responsibility of and of course destiny as well as God's blessings.
The beginning of my business career was in Kerala, my initial ventures being contracts for FACT and Cochin refineries. Unfortunately, due to labour strike, these businesses did not serve me well. It was in 1978, that I had decided to explore my opportunities in the Gulf. With 150 employees, I had initiated my first construction business in Saudi Arabia. Strong determination, hard work and commitment were the only 3 mantras I held close to my heart. Presently, I have more than 1,20 000 employees working for me globally.
Now we are one of the biggest Industrial Construction Companies for Oil and Gas. We have been fortunate to have some of the World's famous oil companies as our clients. My career has indeed been rewarding and I am eternally thankful to God for this rich experience.
My only advise is, anyone who has good knowledge in business can start a business in today's Era as long as you work hard, bear good will and strong commitment.
I strongly believe that Nothing is impossible as long as you have a strong will.

What is your message to the global business community?
My biggest message to the business community is firstly to stay on course and manage this storm with positivity. Let the compromising situation of the world not make business community compromise on their values and ethical system. After the discovery of a vaccine, we will return to a world of perhaps, more and more opportunities.
In my strong opinion "This Year, to stay alive is equivalent to profit! "
Secondly, Covid-19 will bring big changes in the business community and the way business is being conducted. Being fungible and adaptive to the changes will be required more than ever.
What do you want to say to youngsters who see a true role model in you?
Change is the only static thing that occurs with time. The same goes for the pulse in world business.
However, the mantra to success stays the same. Be honest with any business that you wish to pursue. With goodwill comes good opportunities. Be optimistic. With every downfall comes greater opportunities. You still need strong will, hard work, honestly, commitment and strong values to be successful in the long run. Rather, if anything, the current pandemic has only reinforced the need for these values.
You are the recipient of several prestigious awards including the highest civilian honour of Padma Shri. How do you see these achievements?
Each award has only reinstated and instilled my responsibilities to the community and global
society. These honors constantly drive me to stay on my course.
What are the latest CSR initiatives of your company?
Philanthropy is the ideology that drives Dr. Ravi Pillai Foundation which undertakes all the CSR activities of the Group. The Foundation works towards the betterment of the society by providing the underprivileged and the needy with necessary moral and financial support. This is an earnest mission set in motion to help the humanity by Dr. Ravi Pillai, the Chairman and Managing Director of RP Group.
The main activities of the RP Foundation are: Provide assistance and help in the re‐habilitation of the destitute who are suffering from incurable/perennial diseases and who are physically/mentally crippled. Provide assistance to the victims of natural calamities. Provide poverty eradication schemes for the down trodden people. Establish hospitals, clinics, and sanatoriums, to help the poor. Provide assistance to establishments intended for the welfare of the poor. Start educational institutions that provides technical and job‐oriented education with intention for social development. Provide financial assistance for the marriage of young ladies who fall below the poverty line.
I have been able to provide jobs to many who have aspired to work in the Gulf. The current scenario demands all efforts to be focused on CSR activities related to Covid-19. As mentioned above, we are doing everything possible to give back to the community especially with the Covid-19 crisis and have been able to help many families personally with respect to travel, financial aid and healthcare.
During this unprecedented and challenging times of Covid-19, the most pressing need of the pravasis is to safely travel home. While arranging chartered flights for the safe return of all my employees who wanted to travel home, I have been fortunate enough to offer travel assistance to hundreds of workers and families in the gulf countries to travel back to their home countries. I deem it my responsibility to lend a helping hand to my brethren at this time of need and shall continue to offer my assistance to those who are need.
Continuing our mission to support the needy in society, I am still strongly interested in providing more housing facilities to those in need. This I bear in heart and mind as my duty as well as social commitment.
Photo Courtesy: Google/ images are subject to copyright