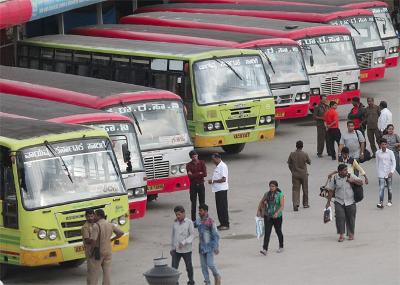 The transport worker's strike had badly jolted Karnataka on last day, with thousands of people were seen stranded in several bus stations across the state.As per the report, around one lakh transport workers has participated in the strike organised to press for nearly forty-one demand.Of this forty-one, the salary hike is said to be the prime demand of all workers. Interestingly, the workers demand a huge salary hike of nearly thirty-five per cent.Experts say that this is the first time the workers are demanding such a huge hike in their salaries. The Karnataka Road Transport Corporation and BMTC are some of the most profitable public sector undertakings run by the Karnataka government, experts added. In fact, BMTC is the one and only city public transport corporation gaining a consistent profit share yearly, experts further added.Local channel report confirmed that since Sunday evening, the workers had been showing hesitation to appear for their jobs.
 The report added that from
Monday
morning onwards, the transport service had been being totally ceased. Some individual incidents of violence and stone pelting were also reported in some remote areas in Bangalore, the report further added. Meanwhile, the government has offered a reasonable salary hike of around ten per cent. Unfortunately, the transport workers union has turned down the offer. However, the Karnataka transport ministry has offered conducting a higher level meeting in this regard. It is said that the transport unions are willing to discuss the issue with the top officials.
Vignesh
Photo Courtesy : Google/ images may be subject to copyright