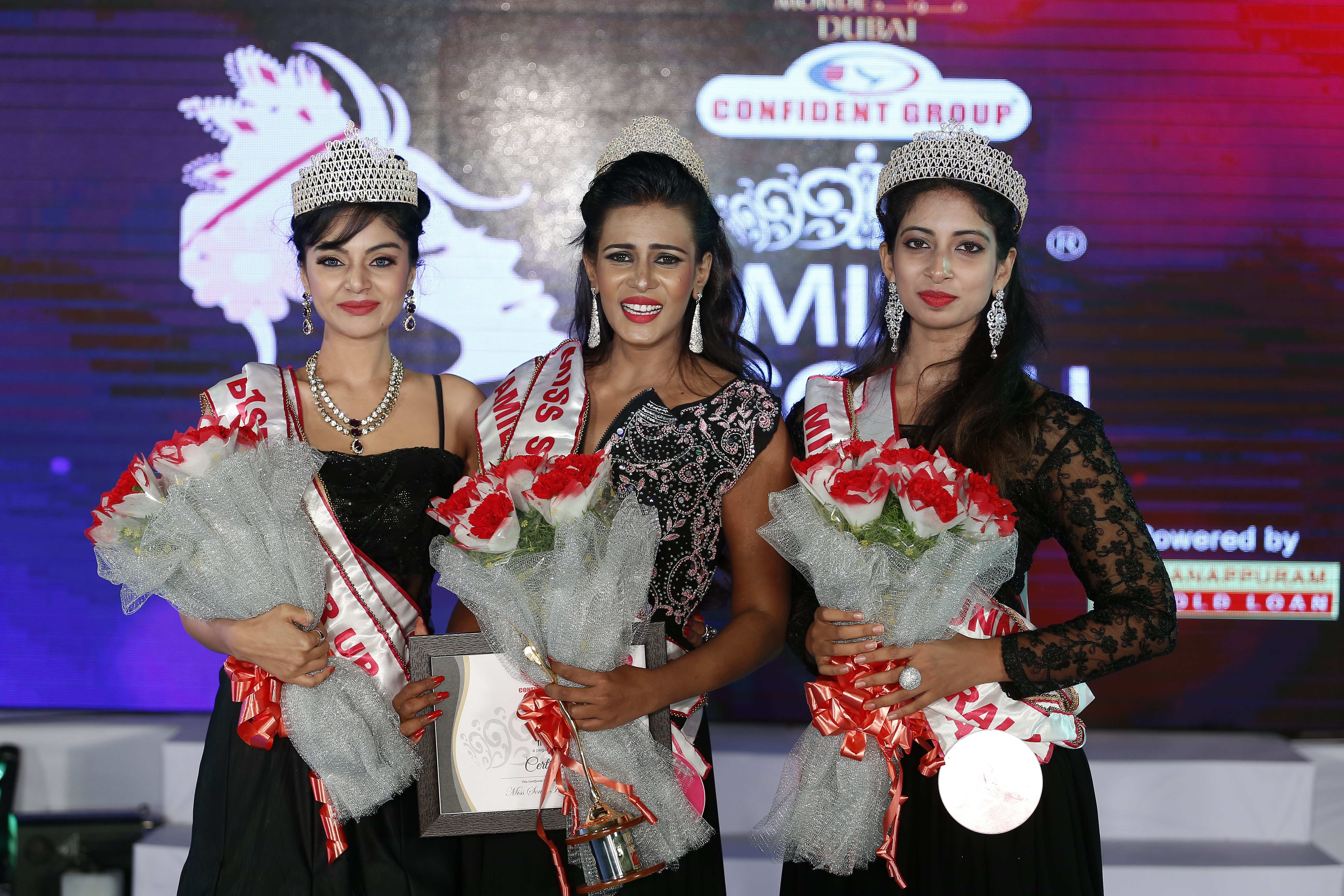 With the crown on her head, Meera Mitun from Chennai stood before the audience as Parfum Monde Dubai Confident Group Miss South India, 2016, powered by Manappuram Group an event conducted by Pegasus event makers yesterday in Confident Amoon, Bangalore. 18 beauties from 5 south Indian states participated in this event. Sanam Prasad from Bangalore and Archana Ravi from Cochin are first and second runner up respectively. Previous year winner Alieena Catherine put the crown on the head of overwhelmed Miss South India 2016 winner Meera Mitun. Parfum Monde Dubai Confident Group Chairman Dr C.J Roy crowned the first and second runners up. The regional title winners,
Miss Queen Andhra- Devika Dhanyuni
Miss Queen Telangana- Sakshi Kakkar
Miss Queen Kerala- Archana Ravi
Miss Tamil Nadu- Meera Mitun
Miss Queen Karnataka- Aiswarya Dinesh
And other sub title winners,
Miss Beautiful Hair- Keerthy Pattadi (Karnataka)
Miss Beautiful Smile- Pooja Mohan (Kerala)
Miss Beautiful Skin- Archana Ravi( Kerala)
Miss Beautiful Face- Sanam Prasad (Karnataka)
Miss Beautiful Eyes- Rashmita R (Karnataka)
Miss Congeniality- Aiswarya Hegde (Karnataka)
Miss Personality- Aparnna (Karnataka)
Miss Cat Walk- Prarthana P S (Karnataka)
Miss Perfect Ten- Reshmitha R (Karnataka)
Miss Talent- Merilyn Hamlet (Kerala)
Miss Photogenic- Sahithya Rajasekhar ( Chennai)
Miss Viewer's Choice- Pooja Mohan (Kerala)
The competition which was directed by Mr. Ajit Ravi Pegasus took place in 3 rounds; Designer saree, red cocktail and black gown.
Actress Ambika, Model and actress Niyati Joshi, Model and actress Simer Motiani, Model and actress Vanisree Bhatt, Model & actress Sanjjanaa, Srilankan Models Ornella and Stephanie resided in the judges panel in this competition. This is the first time in the history of beauty pageant that all were females in the judging panel.
Parfum Monde Dubai Confident Group sponsored the cash prizes of,1 lakh for Miss South India and Rs 60,000 and Rs 40,000 for First and Second runner up respectively. The regional and sub title winners were awarded with a cash prize of Rs. 10, 000/- each given by Parfum Monde Dubai Confident Group. The crowns worn by the winners are sponsored by Parakkat Jewellers. The grooming for this competition started on January 4th in Confident Propus and Confident Amoon, Bangalore. Valentina Ravi (Mrs India Asia International), Sameer Khan (Fashion Choreographer), Jithesh (Personality development trainer), Joshna (stylist) and Dr Asha (Cosmetologist) did the grooming sessions for the contestants.
Event partners of Parfum Monde Dubai Confident Group Miss south India 2016 powered by Manappuram Group are, Unique times, Kanyaka, Beaumonde The Fern, Medimix, Riti Jewellery, Aiswarya advertising, Parakkat Jewellery, Kalpana's family saloon and spa, Divas and House Joy.