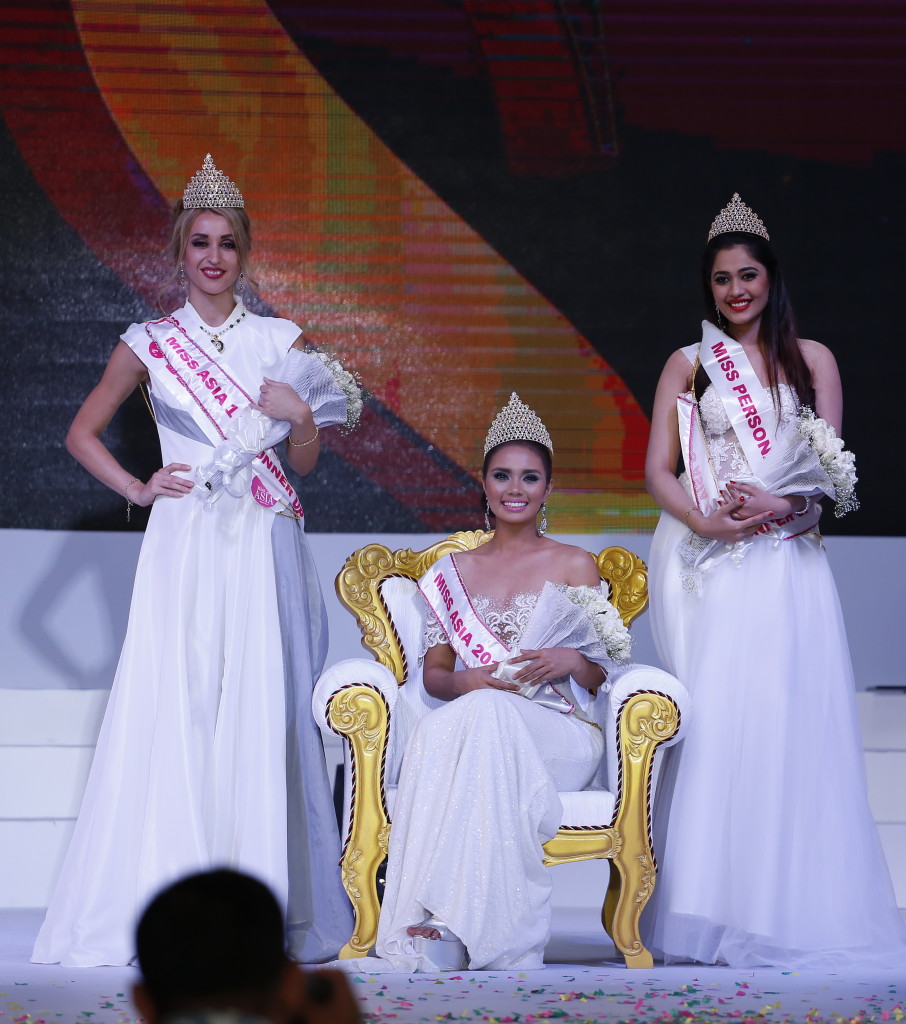 Kochi: The second edition of Manappuram Miss Asia 2016 was crowned to Ms TRIXIA MARIE MARANA – PHILIPPINES by MD & CEO of Manappuram Finance Ltd Mr. V P Nandakumar. First runners up Ms– YAUHENIYA VASILYEVA (BELARUS)& Second runners up ANKITA KHARAT    ( INDIA) were crowned by Mrs. Sushama Nandakumar & Ms. Sumitha Jayasankar.  The 13 sub title winners are:
Best National Costume – MALAYSIA- CHERYL JOANNE CHAN FAN NYUK
Miss Congeniality-   BHUTAN – KUENGA LHADEN
Miss Perfect Ten-   SRILANKA – C.L SHANTHA
Miss Beautiful Face –  IRAN – NILOUFAR TAHERIFARD
Miss Beautiful Smile-  MOLDOVA – VALERIIA TSVIETOK
Miss Beautiful Hair-  UZBEKISTAN – SHIRIN RASULOVA
Miss Viewer's Choice –  BHUTAN – KUENGA LHADEN
Miss Catwalk-  KAZAKHSTAN – DEDOVA YULUYA
Miss Beautiful Eyes-  AZERBAIJAN – LEYLA NOVRUZOVA
Miss Talent –  PHILIPPINES – TRIXIA MARIE MARANA
Miss Beautiful Skin –  UKRAINE – TETIANA SHYMUKOVA
Miss Photogenic-  BELARUS – YAUHENIYA VASILYEVA
Miss Personality-  ANKITA KHARAT – INDIA
The three hour show ended at Time PM which had full of suspense and excitement. Main Title Partner of the event is Manappuram Finance Limited – a company which has more than 3300 branches in 27 states of India and is the First listed and highest credited rated gold loan company in our country. The event was directed by Mr. Ajit Ravi PEGASUS, Founder and Chairman of PEGASUS.
The contestants walked the ramp in the grand finale for the music of PEGASUS, composed by DJ Harvey Steve. The cultural entertainments for the eve was directed by Mr. Sreejith P, Kerala State Film Award 2015 winner for Choreography.
The three sequences for the finale were the national costume round, theme round – Black and White Gown. The subtitles were also judged by a panel of expertise. The title winner won three lakh fifty thousand rupees, the first runner up with one lakh fifty thousand rupees gifted by Manappuram Finance Ltd and second runner up with one lakh rupee gifted by Wow Factor. The crowns worn by the winners are gifted by Parakkat Jewellers.
The grooming for this competition was from August11th in Beaumonde the Fern, Cochin. The girls were groomed by an expert panel of fashion choreographers and trainers– Mrs Valentina Ravi (Mrs India Asia International) Mr Sameer Khan (Famous Fashion choreographer), Ms. Sudakshna Thampi (Yoga trainer), Mr. Vipin Xavier, Fitness 4ever (Fitness trainer), Dr Thomas Nechupadam (Smile Expert), Dr. Asha Biju (Skin Expert), Jithesh, Preethi Damiyan (Personality Trainers) & Joshna Johnson (Fashion Stylist).
The mission of the event is to support – Ajit Ravi's 100 life challenge, saving 100 lives by conducting heart surgeries of deserving people, of which five lives have been saved.
The event is supported by Medimix, Chungath Jewellery, Goodwin Group, The Chennai Silks, Rahna Homes & Developers, Kanyaka, Beaumonde The Fern, D Que Watches, Milano UPVC Doors & Windows, Wow factor, Kalpana Family Saloon & Spa, Parakkat Jewels &Resorts, Aiswaria Advertising, Renaimedicity & Vee Kay Vees.