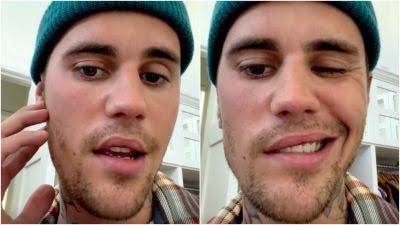 After cancelling shows this week, singer Justin Bieber revealed he is suffering from facial paralysis. In an Instagram video, the 28-year-old explained that her condition is caused by a diagnosis of Ramsay Hunt syndrome.
"This eye does not blink, as you can see. On this side of my face, I'm unable to smile… So this side of my face is completely paralysed "he stated According to medical experts, Ramsay Hunt syndrome occurs when a shingles outbreak affects the facial nerve near the ears. Bieber's Justice World Tour, which began in February, announced earlier this week that three shows would be rescheduled. "It's from this virus that attacks the nerve in my ear and my facial nerves and causes my face to be paralysed," the singer, who was born in Canada, said in the three-minute video, pointing to the right side of his face. He asked for patience from his fans and stated that he is "physically, obviously, not capable of doing" his upcoming shows. He also smiled and blinked, demonstrating to his 240 million Twitter followers that the right side of his face remained motionless.
"As you can see, this is a serious situation. "I wish this wasn't the case, but my body is clearly telling me I need to slow down," he explained. "I'm hoping you guys get it. Bieber went on to say that he's been doing facial exercises to "get back to normal," but he doesn't know how long it will take. He was scheduled to perform in Washington, D.C., and Toronto earlier this week, with shows in New York and Los Angeles planned in the coming weeks.
Pic Courtesy: google/ images are subject to copyright