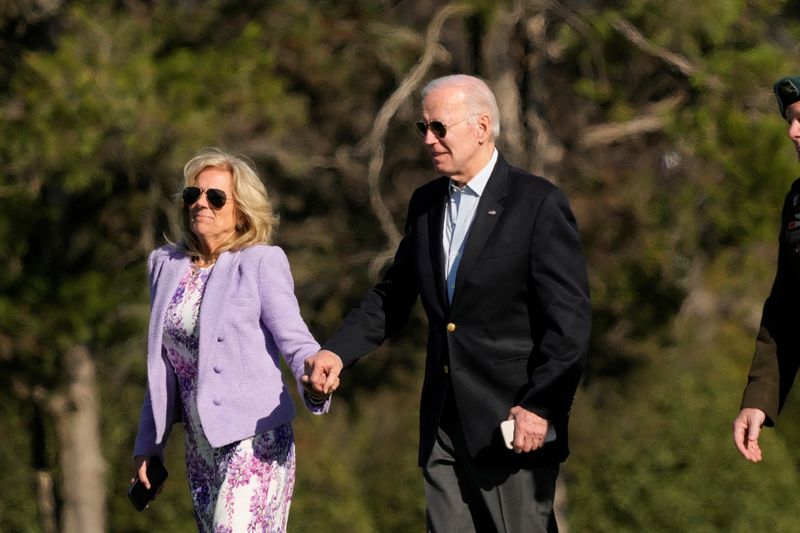 Joe and Jill Biden have disclosed their tax return for 2022, revealing a gross income of almost $580,000. This marks a decrease of $30,000 from the previous year's filing, though it is still a substantial amount.
The majority of their income came from Joe Biden's standard presidential salary of $400,000, which is determined by Congress. The couple's decision to release their tax return is a customary practice that highlights the transparency of the White House, which was not consistently upheld by former President Donald Trump who refused to disclose his income and tax report.
Jill Biden, who works as a teacher at Northern Virginia Community College and is the first presidential spouse to hold an outside-paid job, earned $82,335 according to the Biden's tax return for 2022. They paid a federal tax rate of 23.8%, down slightly from last year's rate of 24.6%, resulting in a federal income tax payment of $137,658. In addition, they paid $29,023 in income tax in their home state of Delaware, while Jill Biden paid $3,139 in Virginia income tax.
The couple donated over $20,000 to various charities, with the largest contribution of $5,000 going to the Beau Biden Foundation, which works to prevent child abuse and is named after their son who passed away in 2015.
The White House stated that Joe Biden has now released 25 years of tax returns, demonstrating his commitment to transparency regarding the finances of the president.
The Biden administration's transparency in releasing their tax returns is in stark contrast to the approach taken by the Trump administration. Donald Trump, a lifelong businessman, refused to disclose his tax returns both as a candidate and during his time in office. It was only after a legal battle initiated by Democrats in Congress that several years of his returns were finally made public, revealing that he paid almost no income tax due to business losses.
In contrast, Vice President Kamala Harris and her husband Doug Emhoff disclosed a gross income of $456,918 in their tax returns, paying $93,570 in federal income tax as well as $17,612 in income tax in their home state of California.
Picture Courtesy: Google/images are subject to copyright