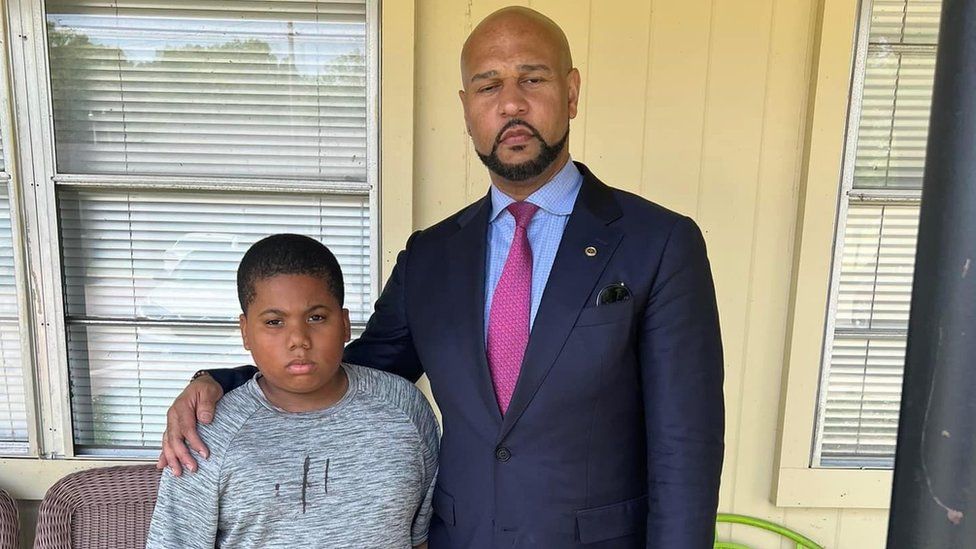 The lawyer representing an 11-year-old boy who was shot by police in Mississippi asserts that there is no possibility that the officers could have mistaken the child for an adult. Attorney Carlos Moore and the boy's family are demanding a thorough and transparent investigation into the incident. The shooting occurred when the child, Aderrien Murry, called 911 to report a domestic disturbance at his home. According to his mother, Nakala Murry, he was shot in the chest. The officer responsible for the shooting has been placed on leave.
Aderrien Murry, who suffered a collapsed lung, fractured ribs, and a lacerated liver, was released from the hospital and is now recovering at home. The family claims that he was shot after the officer drew his gun at the front door and demanded that everyone inside the house come out with their hands up. The boy then turned a corner in the hallway and was shot in the living area, as reported by the family. Both his mother and the officer provided aid until medical professionals arrived.
Carlos Moore emphasized that Aderrien Murry, who is approximately 4ft 10in (1.47m) tall, could not have been mistaken for the adult man who was the subject of the domestic disturbance call. Moore questioned why the officer shot the boy since he did not pose a threat and was not holding anything in his hands. The family believes that Aderrien was merely following his mother's instructions to call the police for assistance due to concerns about the behavior of another child's father.
The Indianola Police Department has not made any comments to the media regarding the incident. Indianola Mayor Ken Featherstone mentioned that the officer has been suspended pending a psychological examination and to discuss his readiness. Body-camera footage of the incident exists and has been handed over to investigators. A sit-in was held by the boy's mother and Attorney Moore, joined by supporters, outside the Indianola city hall. They are demanding the release of the body-camera footage and the termination of the involved police officer. Moore plans to file a federal civil rights lawsuit against the city, the officer, and the police chief.
The Mississippi Bureau of Investigation is currently assessing the incident and collecting evidence, with the intention of submitting their findings to the state attorney general's office.
Picture Courtesy: Google/images are subject to copyright