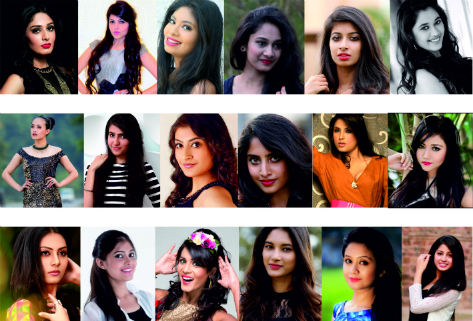 Kochi: The 6th edition of Miss Queen of India will be held at Gokulam Convention Centre, Kaloor, Kochi on 27th of April 2016. Miss Queen of India 2016 is here to discover the freedom of expression and talent for the women of India. The pageant that has been successful over the past five years will not just look at the modern aspects of a woman but also her cultural and traditional facets to test her bonding with the nation. With culture and beauty emanating from each of the pageants, they will also be crowned as the ambassador of their respective tourist destinations. Miss Queen of India is the only pathway to the international pageant Miss Asia which doesnot sport any bikini round.
Main Title of the event is Manappuram Finance Limited – a company which has more than 3293 branches in 28 states and union territories of India and is the First listed and highest credited rated gold loan company in our country.
The Miss Queen of India pageant is conceived and executed by Pegasus, South India's leading event Management Company.
The final event of the pageant consists of three and a half hour program with three sequences and cultural extravaganzas and will be directed by Ajit Ravi Pegasus. 18 contestants  – Aishwarya Dinesh from Bangalore, Aishwarya Sahdev from                Delhi, Amina Adil Mian from Nagpur, Ankita Kharat from Mumbai, Aparnnaa from Mysore, Archana Ravi from Kochi, Asmita Kaushik from Delhi, Ayushi Kumari from Ranchi, Devika Dhanyuni from Vizag, M Kiran Hea from Assam, Meera Mitun from Chennai, Neha Jha from Kolkatta, Prarthana P.S from              Koorg, Preet Kunwar Choudhry from Mumbai, Rashmitha Gowda from Chikmagalur, Shifali Arora from Delhi, Stuti Chopra      from Delhi, Veineinem Singson from Nagaland will walk the ramp in the grand finale for the music of PEGASUS, composed by DJ Harvey Steve.
The grooming sessions will commence from April 22nd at Beaumonde the Fern, Cochin. These sessions will consist of yoga, meditation, personality development, catwalk, beauty tips, Photo shoot, Interaction, Talent search, etc.… This will help the contestants to enhance their strengths and overcome their weaknesses. Grooming section will be completely focused on the culture and tradition of India. The girls are groomed by an expert panel of fashion choreographers and trainers –Mr. Sameer Khan of Elite Model Flattt; Ms. Valentina Ravi of Valen's Model Management, Fitness trainers Mr. Vipin & Mrs Sini Vipin of Fitness 4ever, Personality development trainer Mr. Jithesh & Ms. Preethi Damiyan, Smile Expert Dr. Thomas Nechupadam, Cosmetologist Dr. Asha Biju and Jebitha Ajit, MD, Pegasus.
The winners will be getting a gold plated crown designed by Mr. & Mrs. Prakashan Parakkat. The title winner will win 1.5 Lakh rupee gifted by Manappuram Group, the first runner up with Rs.60, 000/- gifted by Wow Factor and second runner up with Rs. 40, 000/- gifted by Beaumonde The Fern.
Apart from the title winners, the subtitles to win are Miss Beautiful Hair, Miss Beautiful Smile, Miss Beautiful Skin, Miss Beautiful Face, Miss Beautiful Eyes, Miss Congeniality, Miss Personality, Miss Cat Walk, Miss Perfect 10, Miss Talent, Miss Viewer's choice and Miss Photogenic. There would also be regional titles, Miss Queen North, Miss Queen West, Miss Queen East & Miss South India to won. The winners of regional titles would be awarded with prize money of Rs. 10,000/- gifted by Creative Boutique. The three sequences include the designer saree, Cocktail and Gown round. The sub title would be judged by an expert panel of expertise including Fashion photographer Mr. Reji Bhaskar, Smile Expert Dr. Thomas Nechupadam, Cosmetologist Dr. Asha Biju of Wow Factor & Beauty Expert Ms. Sara Kurien, Managing Partner, Kalpana Family Saloon & Spa.
The viewership of the event is restricted to the invited guests. There would be a colour theme for the guests; Red or black.
The event is supported by Unique Times, Medimix, Kanyaka, Chungath Jewellery ,Creative Boutique, Travel Partner-Manappuram Travels, Charity Partner-The Indian World Wide Chamber of Commerce ( IWCC ), Hospitality Partner-Gokulam Park Inn, Lifestyle Partner – Ritz, Out Door Media Partner-Aiswaria Advertisers, Crown Partner-Parakkat Jewels, Grooming Hospitality Partner -Beaumonde the Fern, Gift Partner-Wow Factor Hair & Make Up Partner-Kalpana Family Saloon & Spa
Regards,
Ajit Ravi
Chairman
PEGASUS
98460 50283