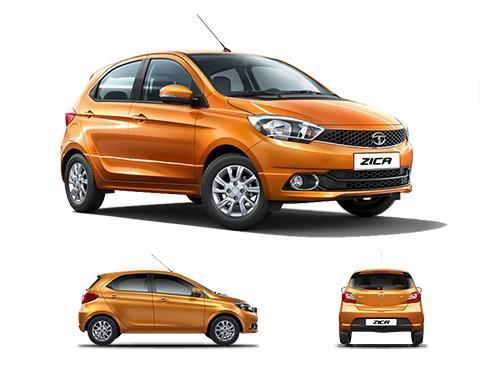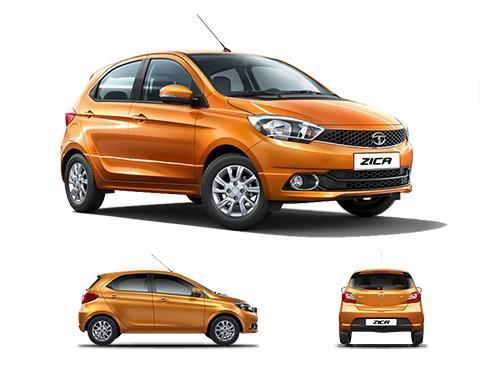 Forget your stereotyped expectation about Tata cars; the Zica is a new chapter in car making for the Indian manufacturer. For long, there has been a big gap between the Nano and the Bolt, and that is where the Zica slots right in. Sure, there was the ageing Indica, but it is rather crude and utilitarian for family buyers to consider these days. With the Zica, Tata wants to appeal to a younger generation who would otherwise buy a Maruti Celerio or Hyundai Grand i10. But, is it any good?
We get to sample the latest from Tata Motors, months before its actual launch.
As you might have probably noticed, the styling is a mixed bag with unintended similarities to other cars, but overall it looks good. The new smiling face is unmistakeably Tata, but has a sharper and more stretched look to it. The front grille forms an arc with the headlamps, and the raised bonnet line adds to the road presence of this one. The side profile is rather conventional, but 3746mm length (Celerio measures 3600mm) makes it look substantial. The rear with its large tail lamps and blacked out number plate recess looks particularly nice. Unlike most Tata cars, the Zica doesn't feel over raised which contribute to its overall looks. Tata says that the Zica is based on an all-new platform that will underpin more cars in future.
Unfortunately, the former Tata cars have not really impressed anyone with its interiors.
Even though you get a good deal of interior-space, and is not needed that remained as the only saving grace in a sea of cheap plastics, ill fitting panels and crude finishes.
In contrary to the predecessors-interior concept, The Zica on the other hand is having a rather inviting interior and cabin quality.
It seems that it not only stay odd with the Tata's old designs, but also with other small cars.
The textured dashboard, the premium looking roof lining, and the seat fabrics will remind you of the car several segments above. Yes, there are some cheap feeling bits, particularly towards the lower half of the cabin, but you have to give it to Tata for upping the quality game.
Tata has once again joined hands with Harmon Kardon, and designed an audio system specifically for the Zica. It sounds punchy and well balanced, and the sound staging with four speaker and four tweeters is also excellent. It's also quite clever that it can act as a jukebox connecting upto four different mobile phones via an app and combining the songs from each into one playlist. It also provides turn-by-turn instructions when paired to a smartphone for navigation. Compared to other TATA The seats are comfy, and you do get a lot of space rather than other Tata. There are plenty of storage spaces in the cabin, and boot space is rather useful at 240 litres too.
Powering the Zica are two new engines. The petrol is an all aluminium 1.2litre 3-cyl engine; similar architecture to the Bolt's, but without the turbo. It produces 84bhp and 11.4kgm torque, and is adequate for most buyers. It pulls well, and has decent mid range power on tap; but unfortunately, it won't impress you with its performance or refinement. It becomes vocal after 4000rpm and you do have to work the gearbox a lot in the city. The 69bhp, 1.05L diesel 3-cylinder is even more impressive; with a good 14.27kgm torque, the engine is giving its better cruising performance. The engine is reasonably refined, and has decent tractability from low revs; and is far better than the 2-cylinder motor that powers the Celerio diesel. The gearbox on both models feels a touch notchy, and they do send up some vibrations via the gear lever; we hope that Tata cures it before actual production cars hit the market. There is an Eco mode for city driving, but all it does is reduce the throttle responses and make the car feel lazier.
The Zica drives well for its class, soaking up bumps and road undulations. The 175/65 R14 tyres have good amount of grip and straight-line stability, and is commendable too. The steering is a little lifeless compared to the Bolt, but overall handling is still friendly. The top end model we drove came with ABS, EBD and two airbags.
Tata will price the Zica competitively when it gets launched next year. It is a marked improvement in terms of its quality and design rather than any other Tata product; and is now at par with rivals from Japan and Korea. What remains to be seen is the long-term reliability, and how this thing ages a couple of years from now. Also, Tata Motors needs to work on the quality of sales and service, before it can regain the trust of a new-age car buyers. But from what we have seen so far, they seem to be on the right track with the Zica.