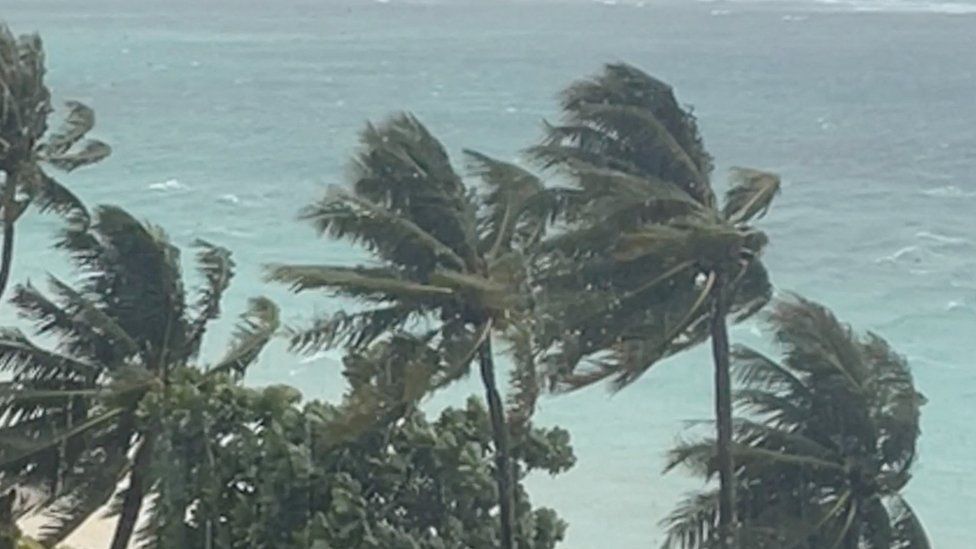 Super Typhoon Mawar has struck the US territory of Guam, causing severe damage with its strong winds and heavy rain. The category four storm passed over the northern part of Guam, bringing winds of 145mph (230km/h). This typhoon is one of the most powerful to hit the island in recent years.
The storm has resulted in widespread power outages, leaving the majority of the island without electricity. As of Wednesday afternoon local time, only 1,000 out of 52,000 customers had power. The Guam Power Authority has stated that they will work on restoring electricity once the winds have subsided to safe levels. The National Weather Service in Guam has warned that electricity and water may be unavailable for days or even weeks.
Fortunately, there have been no reports of injuries or fatalities at this time. However, the storm could bring a life-threatening storm surge and up to 20 inches (50cm) of rainfall to the island, which has a population of approximately 170,000 people. The NWS predicts that Mawar could continue to strengthen before weakening on Thursday.
President Joe Biden declared a state of emergency prior to the typhoon's arrival, allowing federal agencies to provide assistance for relief efforts. The US Federal Emergency Management Agency is coordinating the response to the storm. The US military, which has several facilities on the island, took precautions by either relocating aircraft or securing them in protected areas.
Guam is prone to tropical cyclones due to its location in the West Pacific Ocean. Mawar could be the most powerful typhoon to hit the island since 2002 when Typhoon Pongsona caused significant damage totaling over $700 million (£560 million).
While the direct impact of climate change on storm frequency is not yet fully understood, scientists suggest that increased sea surface temperatures can warm the air above, providing more energy to fuel hurricanes, cyclones, and typhoons. This can result in more intense storms with greater rainfall.
Picture Courtesy: Google/images are subject to copyright