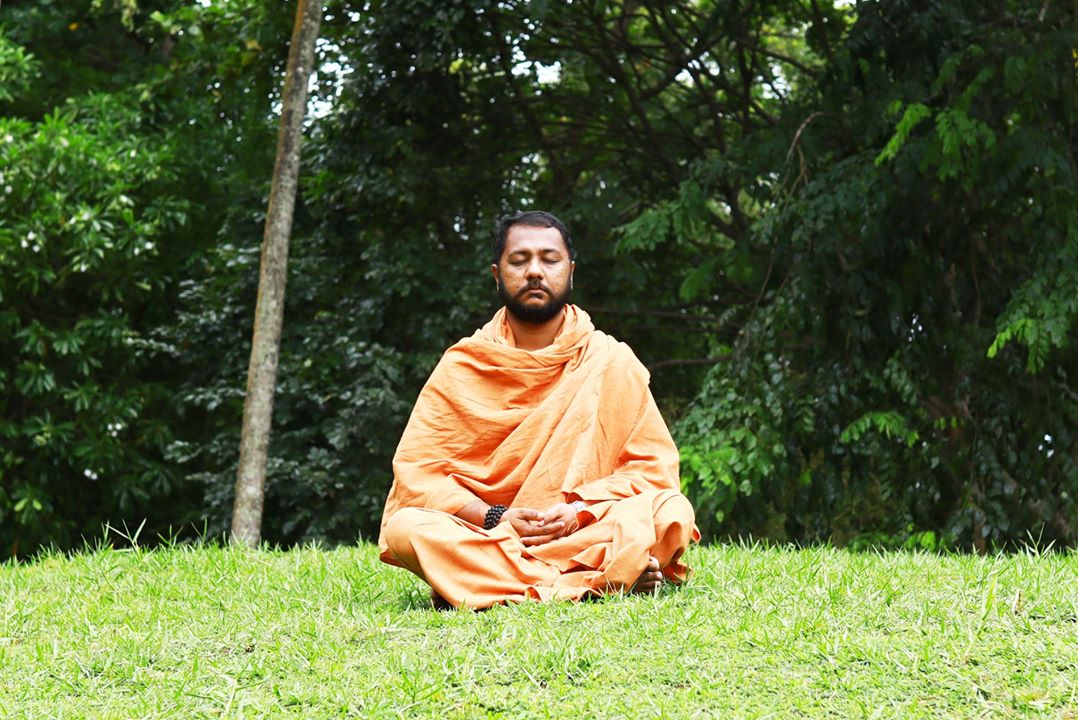 The world has turned into a seething mass of ignorant souls, the truth has lost its significance, life has become barren and everyone is searching for a ray of hope. The ultimate solution for all our woes, the solace we have been waiting for is with us to lead us towards the light, the light of knowledge.
Welcome!
You are fortunate to be near a great guru, a master, a yogi, an epitome of love and compassion, a sage who has devoted his life for the betterment of the human race, Dr. Swami Himaval Maheshwara Bhadraanand.
One can define him as a selcouth Sanyasi with a sixth sense and sanctified powers or as a Karma Yogi on a Spiritual Quest, with a flair to study the Future of human life and its aura. But the truth is that words cannot contain the real might of this Guru.
Dr. Swami Bhadraanand is a spiritual scientist who has done 15 years of intense research on "AURA and its Implications in Human Life – Good, Bad and the Unknown". The recognition it received around the world is truly astonishing. He offers the fruits of his research to the betterment of mankind in the form of AOA, Art of Ascetics, which enables one to experience inner evolution and bliss.
Swami Bhadraanand has experimented with his powers to manipulate the Aura of a person and find out the credibility of that person. His research on the Aura of a human being and the science of repairing a damaged Aura has been developed by him and termed as Aura Mechanism.
Swami Bhadraanand as a Seer with ESP, the extrasensory perception was honored with Mother Teresa Award from the ministry of Kerala for predicting Tsunami in 2004. The number of predictions made by him has placed him next to Nostradamus. But Swami Bhadraanand's predictions are known for their accuracy which Nostradamus rarely possessed. He has been honoured with the degree of Doctor of Philosophy for his predictions.
This incredible personality is an embodiment of knowledge and his brave thoughts possess the revolutionary seeds of transformation, which of course, is based on Sanatana Dharma. The serenity of a sage and the valour of a revolutionary combined, Swami Bhadraanand is one of the greatest proponents of Vedic culture in the modern era.
He is a true visionary who is born to rejuvenate mankind by unraveling the eternal Cosmic truth to the naive human eyes. Patriotism is his creed and the wholehearted support he gives to the expats is praiseworthy.
Are you ready to plunge into the mysterious and fascinating life of our Master? Are you brave enough to experience his mighty presence? Are you a genuine seeker?
If Yes… You have reached your abode. Guru knows you are here.
A Selcouth Sanyasi With Sixth Sense And Sanctified Powers
Spirituality is an intriguing matter. One must renounce everything he has in order to be successful in his spiritual journey. Spirituality is necessary only after a certain age. It is for middle-aged people. This is the impression most of the ignorant souls in this society carries in their mind. Dr. Swami Bhadraanand laughs at these ignorant thoughts saying, Well, ignorance is at times a bliss.
From ignorance to knowledge is what embodies one's spiritual journey and for that one needs a real Guru, who can lead you through the dark alleys of inexperience to the light of knowledge. In a land, flooded with spiritual leaders, to find a genuine one with pure Siddhi is very difficult. Many exhibit their 'service-oriented' activities for money and fame. Swami Bhadraanand stands apart from all of them as he believes in working selflessly. His life to date is an example of self-sacrificing love and compassion for people in despair.
Dr. Swami Bhadraanand is gifted with the power to perceive the real self of a human being. One can call it the Sixth Sense, but it is much beyond that as his ability to analyze the real human persona is unimaginable. His predictions have shaken the Indian society many times with their accuracy. The incredible gift that has been endowed to Swami Bhadraanand at a very young age has been instrumental in changing the future of many people, including the political leaders and film stars. He can simply look through one's physical self and gauge the good and bad in their personality. He can understand the way that the soul has been traversing through one birth to another, passing through various stages of Karma. He decodes the entire self of a person, releasing him from his Karmic bondages, leading him towards the path to fulfilling his dreams. We see a lot of preachers around us, who teach us what to do and what not to do in order to achieve Nirvana or Moksha. But no one has ever seen someone who practices the preaching in real life in order to help society. Swami Bhadraanand has warned the authorities many times about the impending danger, trying to avert the calamity. He has been recognized by the government and many eminent organizations that chose to venerate the Guru with awards and felicitations.
Swami Bhadraanand has been against evil-minded, power-hungry people all throughout his life. This has gained him a lot of enemies. He fights against all kinds of Adharma and is very keen on the people whom he helps. He always advises his disciples to help selflessly, but only those who deserve it. This Sanyasi, who lives in disguise of a common man is a vast cistern of knowledge.
Be a solitary walker. Be pure. Be receptive. Be a blank notebook. Let the Universe write a beautiful tale on your pages.
The Rise of a Foreseer in the soil of Mother India
Kerala is a state in the Southern part of India, where Dr. Swami Bhadraanand was born. Kerala has been called the Land of Lunatics, by Swami Vivekananda. Jagad Guru Sree Narayana also has fought against the caste system and the prejudiced mindset of the society all throughout his life. This land has never received any spiritual master wholeheartedly. They are a suspicious bunch of people criticizing spiritual gurus as fake and their teachings as rubbish. Swami Bhadraanand has proved them wrong through his predictions. He feels that he should stand by his people, saving them from the darkness of ahamkara, helping them to lead a peaceful life. He has stood the storm and has worked relentlessly for the benefit of his people, whom he considers as his own.
This guru has been like a cloud. He willingly absorbs all the filth that is being thrown at him by ignorant people, turns it into a rain of love and compassion and showers it over humanity in order to cleanse it.
This has been said by the Guru when he was asked about the future of the coming generations in spirituality. Swami Bhadraanand's attempt is to rejuvenate the mankind that has fallen into the depth of ignorance from the Heights of Vedanta and Vedic culture. India is the land of the Vedas. The spiritual and cultural heritage of India has been invaded by foreign cultures which resulted in diminishing its divine radiance. Swami Bhadraanand trains the young minds to become the torchbearers of the real India, leading her to prosperity. He wants humanity to be aware of the single source that has produced the whole world. "Vasudhaiva Kudumbakam", the whole world is one single family, should be our watchword says Swami Bhadraanand.
He also aims to document the spiritual evolution of mankind starting from the very first generation. He believes that this will help people realize that they all belong to the Vedic brotherhood. He scientifically explains the dense philosophical concepts to his students with a pinch of humor, so as to make it palpable for the modern youth. Swami Bhadraanand is backed by a group of generous students and is waiting for more who can join him in this noble cause. "This attempt can definitely bring peace in the world which is what humanity needs most now". He once said.
It is the aura of a person that needs correction. Swami Bhadraanand has done immense sadhanas to unravel the truth of the Vedas. His enlightened self has been drawn towards ancient gurus who lived in the snowclad mountains of the Himalayas and the knowledge he gained from them helps him in cleansing one's aura. This ancient Vedic ritual is an exclusive service he is rendering humanity, through which he cleanses the energy of a soul, giving the person a fulfilling future.
A Sacred Birth That Has Been Hunted Ruthlessly
Call him, a social worker, a critic, revolutionist, a benefactor of the poor and above all an ardent spiritual yogi; he is the embodiment of all these traits put into one, a legendary epitome of the modern Era.
The Revolutionary protector Swami Bhadraanand's roots of spiritual inheritance stems from his maternal forefathers. His great grandfather Nani Ashaan was a true-blue, sedulous and die-hard accomplice of Sree Narayana Guru. From the time of Sree Narayana Guru's presence in the celestial place of Aruvipuram, Nani Ashaan was the concierge and disciple for the Guru. Sree Narayana Guru and his ardent disciple Nani Ashaan, together, installed the famous and controversial Shiva Linga, materializing the initiation of the Shiva temple in Aruvipuram.
Shri. N. Rama Panicker son of Nani Ashaan was Swami Bhadraanand's maternal grandfather, a devout Shiva Yogi, his maternal great grandmother, an ardent devotee of Parvathi Devi and his maternal uncles who were all famed Tantrics and renowned Yogis. The spiritual inheritance is said to affect even the genes of coming generations, no wonder how Swami Bhadraanand has been gifted with Sixth Sense and spiritual enlightenment. He calls himself a Spiritual Beggar, as he owns nothing in this world. In a land where the so-called spiritual masters enjoy a luxurious life, he stands alone, without even having a home of his own.
Swami Bhadraanand can be considered as the most hunted Hindu mystic in the history of India. He has been courageously facing the anger of the media who always tried to tarnish his image. His identity has been presented in the wrong way before the entire world by a group of people with vested interests. The prejudiced society chose to believe the paid media, ignoring the great service-oriented mind of this Guru whose only aim was to help the needy. It was Swami Bhadraanand's fearlessness that threatened the political and religious criminals who paid the media to ruin his life.
The print media with vested interests used their pens to discredit the truthful, loving, righteous and compassionate person, Swami Bhadraanand, portraying him as a low criminal and an outlaw. A leading Malayalam daily, "Mangalam" and its staff, especially Mr. Stephen Arikkara, a hired goon of Mangalam Daily were behind this. The master brain behind tarnishing Swami Bhadraanand in all the possible ways through the media was D. Dhanasumod who has been backed by Mr. Raju Paul, the bureau chief of Mangalam Daily. The worst image portrayed about Swami Bhadraanand by Sreejith Augustin of Mathrubhumi Daily was of an immoral man having an illicit relationship with women which in fact reflected his own filthy character. In truth, Swami Bhadraanand was living with his mother and this allegation was propagandized by Sreejith which tarnished Swami Bhadraanand's character irreparably.
But what can ignorant minds plot against the SON of GOD? He shines through all these like a sun, with his immense spiritual power and divine grace.
Presently he is facing threats from the extremists belonging to all religions because he had openly discussed the blind illogical teachings, issues and the heinous crimes undertaken by some of them. The main agenda of extremists is to start a communal riot in the country for personal gains. We cannot forget the fact that India is a country that has been partitioned in the name of religion. Swami Bhadraanand's sole mission is to educate people against the hatred and violence caused in the name of religion. The vision behind his teachings and criticisms against communal rifts is to bring in harmony in human thoughts. He wants people to understand the fact that all are one in this universe and should be given the right to live as one race. This makes him the revolutionary sage that he is.
Swami Bhadraanand is a lone warrior. He never tries to befriend cast chieftains, political principals, religious leaders, sectarian gangsters or party-political agitators – he chooses to traverse his own path.
He is never afraid of criticism or negative publicity; he laughs his hurt away and smiles; he follows his conscience which he says is God; and willingly accepts the unjustified abuse from the ignorant society. As Swami Bhadraanand practices spirituality and Sindhu culture, which teaches love rather than the extremist ideologies of these terrorist groups, they consider him as their enemy and rival. There have been three murder attempts against him to date which shows the intolerance of the extremists. Still, the valiant son of Sanatana Dharma is fighting them through the media as he is a journalist as well.
The Divine Transformation at a Glance
It was on 22 September 1982 that Mr. Hemachandran and Dr. Madhuja were blessed with a little boy. He was a baby with a certain peculiar kind of energy encircling his physical presence. This was sure to happen as he was born into a family of yogis. They named him Arun Chand. He grew up into a naughty lad, who was good at everything including studies and extracurricular activities. He was everybody's favorite. His amazing sense of humor, ability to mimic sounds, a keen sense of observation which later turned into drawings and dancing were a feast to everyone's eye. They adored him more and more as he grew up.
As a teenager, he became interested in cars and bike racing. He loved speed, maybe because he himself was thinking much ahead of time. His friends never understood the inner being, of this cheerful boy, that longed for something. He himself was at a loss to find what it was that he really needed. Nothing could give him absolute pleasure or happiness. He would look up to the sky with angst to know why the material world could no longer make him happy and why he was always drawn towards the unanswerable questions regarding existence. He wanted an answer and hence followed his inner voice always. He knew that the truth was hidden somewhere inside him and he only had to unravel it.
Arun Chand was an engineering student, heading towards the completion of his Bachelors and he could no longer suppress the spiritual urge within him. It was his time to know the truth. His Guru, a fiery AGHORI, Adithya, manifested in front of him. Swami Adithya vanished with his sishya and Arun was nowhere to be found. Guru took him to the snow-clad mountains of the Himalayas in no time, remember Sadhus are neither space or time-bound.
He was absent from the familiar circumstances which made his dear and near sad and frightened. The only thing they could do was to hope and pray for his return. The young sadhaka was enjoying the love and blessings of the great Himalayan Sadhus by then. It is believed that once a Sadhu who is eligible to acquire Moksha/ Salvation visits The Himalayas, his spiritual powers get locked there. This shall be unlocked only when a related person visits the place again. He was undergoing the same process. His siddhis were unlocked and it flowed in like a vast ocean of knowledge, awakening the real self, the real Guru, hidden within. Swami Adithya taught him the essence of Vedas and Tantric vidyas including Parakaya Pravesham. Swami Himaval Maheshwra Bhadraananda was born there, in the Himalayas.
No Sadhu will be interested to come back to the material world as they enjoy a much higher level of happiness and satisfaction in detachment. But Swami Bhadranand's master and other sages reminded him of his duty towards his motherland, convincing him to come back to his land, Kerala. The Master spent the initial days in silence, pondering over the questions of existence. He would meditate for hours, cleansing his aura, under a Vata Vriksha/ Banyan Tree, or by the seashore. He was never interested in going back to his old spiritual groups as he was on a higher level of perception by then. An unknown force always guarded him, keeping him away from any sort of distraction. Finally, it was time for Swami Bhadraanand to get involved in the changes that were happening in society.
He has acquired siddhis (Special Mystical Powers) that enabled him to analyze a person in and out. Spreading his senses well above the human conscience, the blessed one could comprehend the individual in his human form and visualize his sanctity from a spiritual state, providing resolutions that carefully untie and unite the knots of one's "Karma". The peace and tranquility achieved by the mere sight of Swami Bhadraanand are said to be as powerful as the brilliance equal to the blaze of a thousand suns. A highly scientific and logical mind finds safe harbor in the divine self of Swami Bhadraanand and he is known to be more of a realistic soul with a subtle, modern and concrete approach, not forsaking and negating worldly life. The spiritual guidance acknowledged by his devotees speaks volumes about the life they lead and the impediments they had overcome. The Master appears to be a friend to many of them, cracking jokes and indulging in friendly conversations, but at the same time cleansing their self with his incredible might.
Dr. Swararaj Mani was the psychiatrist who had confirmed Swami Bhadraanand's elevated ESP, at the age of ten years when his parents were skeptical and worried about his psychic condition. This was the initial revelation about Swami Bhadraanand's miraculous proficiency to his family. And for the second time, it was a close associate called Mr. Anysh Aloysius Rosario, a writer by profession who had ascertained the Extra Sensory Perception of Swami Bhadraanand.
There are several questions in this world that are quite intriguing to a human mind. With the blessings of his eternal parents, Bhadrananji is able to unleash a tremendous amount of energy into his disciples, giving them answers to everything that they have been searching for. The physical body is nothing but a shell that holds the eternal soul. The aura that surrounds one is a representation of his Karma. The karmic bondages surround a man throughout his life and the negative impacts it can cause, due to one's karma can be averted by a true teacher only. The disciples of this great human have many such instances to narrate. The sufferings that come out of one's karma in the past birth can be nullified through the effective interference of someone who possesses immense spiritual power.
As evidenced by Swami Bhadraanand, the human mind is controlled by the veiled factors that control the transcendent self, in the form of electromagnetic waves, and the constant flow of energy towards and from the Self.
The Universe and its elements are created on the basis of scientific and mathematical propositions. They seemingly look quite complex but are the basic structure/formulae that embody every single element here. Swami Bhadraanand uses the same formulae used by nature to generate and circulate peace and tranquility. Swami Bhadraanand has revealed in himself the ability to change the destiny of a person- through the powerful process of AOA which has been researched intensely by him through all these years. Hosting a wide array of holistic services, Swami Bhadraanand offers his wisdom to invoke the blessings of God/Super Consciousness to heal the minds of his disciples.
Swami Bhadraanand offers a platform to those who seek revitalization in life, for those truth- seekers and peace lovers where the positive results are readily noticeable. A large number of disciples have been cured of their illnesses and offered mental peace through him. He has silenced his critics with his accurate predictions which also have won him many laurels including The Mother Theresa Award and the degree of the Doctor of Philosophy. Many who were in need of wealth and materialistic gains approached him and got wealthy not only by money but also by heart and soul through his renowned method of Aura tuning.
A garland of flowers in one hand and rudraksha, on the other hand, the Godman image, is not his trademark. When a soul saturated with real belief finds sanctuary in him, the birth of his love and compassion in you starts pouring in. He treads fearlessly on the path of justice for the needy people and their rights. His Karma instigates him to destroy the unjust, facing it with all might rather than raising his hands symbolizing "Om Shanti".
You know his name, but not the story behind his name. You can interpret him and his teachings provided you know his real self. You've heard what the media has to say, not his true endeavors. Do not underestimate his power unless and until you have challenged him. You may have understood his thoughts, in the form of his words but not his perceptions that are intense and sturdy. Experience his indomitable courage and enlightened thoughts, his support to the marginalized and follow his brave endeavor to eradicate the antisocial elements creating havoc in this country.
Swami Bhadraanand is also an enigmatic descendant of the modern era. His passion is to pursue the mysterious. Material benefits are not his priority and his acquaintance is a matter of pride for who knows his power.
Intense sadhana, the realization of universal love; the satisfaction derived from seeing others' ignorance being reduced; and the unbounded grace of the beloved guru; makes him what he is. He will hold a mirror towards your self, reflecting the good and bad, clearing the bad of course to fill you with extreme positivity. Only a sincere and devoted soul can draw the essence of his blessings, for he values sincerity more than anything. A hypocrite might call him deceitful but an intellectual will identify him to be a genius. He wants his disciples to be responsible citizens and valiant fighters, who dares to question even the most powerful when they are exposed to injustice.
Now, it's your turn to experience this Immortal Soul…
Photo Courtesy: Google/ images are subject to copyright