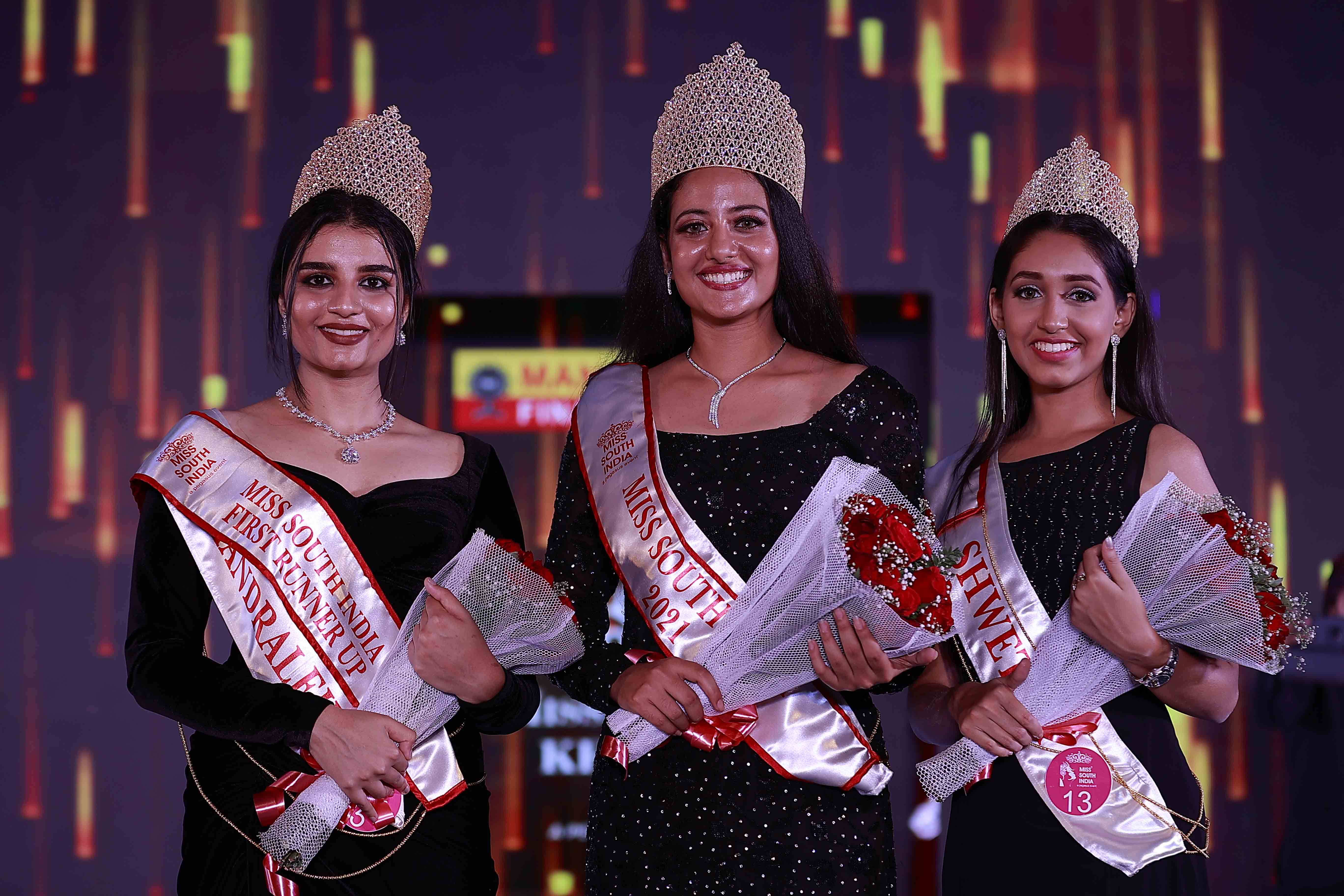 Keralian beauty Ansi Kabeer won the Manappuram Miss South India 2021 along with Chandralekha Nath as first runner-up and Shwetha Jayaram second runner-up.
They won the 19th Miss South India beauty pageant organized by Pegasus to find the beauty queen of South India. Manappuram Finance Limited and DQUE are the main partners of Miss South India 2021 organized by Pegasus Global Pvt Ltd.
Naturals, Medimix, DQUE Face and Body Skin Friendly Soap are powered by Partners. Co-partners are Kalpana International, SAJ Earth Resort, UT World, Absolute IAS Academy, Sunny Paints, Green Media, Vee Kay Vee Caterers, Le Meridien Hotel and Fashion Konnect.
Pegasus MD Mrs Jebitha Ajit crowned the winners of Miss South India pageant on August 27 at the Le Meridien Hotel in Coimbatore with 14 beauties from five states in South India.
Regional title winners
Miss Tamil Nadu – Dhachani Santha Soruban
Miss Queen Kerala – Chandralekha Nath
Miss Queen Telangana – Deepthi Srirangam
Miss Queen Karnataka – Afrin Syed
Subtitle winners
Miss Congeniality – Abinaya Subramaniam from Tamil Nadu
Miss Ramp Walk – Dhachani Santha Soruban from Tamil Nadu
Miss Perfect Ten – Reema Ravishankar from Kerala
Miss Viewers' Choice – Sreelakshmi C from Kerala
Miss Social Media – Sreelakshmi C from Kerala
Miss Humaneness – Adithi K Shetty from Karnataka
The competition was held in two rounds, designer saree and red gown. Dr. Kuriachan (International Motivational Trainer), Abhishikta Shetty (Model & Miss South India), Reshma Nambiar (Miss Glam World 1st runner up, Actress & Model) and Dr. Jayasree Chandramohan (Mrs India Earth Classic & Fitness Therapist) were on the judging panel.
The winners of the subtitles were selected by a panel of eminent persons.Pegasus Global Pvt Ltd is the only company in the world who excluded the infamous Bikini round in their pageants and focuses more on talent and personality. The winners of Miss South India were presented with a gold crown designed by Parakkat Jewelers.
Abhinaya Subramanian (Tamil Nadu) Adithi K Shetty (Karnataka) Afrin Syed (Karnataka) Ansi Kabeer (Kerala) Chandralekha Nath (Kerala) Deepthi Srirangam (Telangana) Deepthie S (Tamil Nadu) Dhachani Santha Soruban (Tamil Nadu) Divya Shivappa Benni (Karnataka) Harshita Pujari (Karnataka) Poojitha Gali (Andhra Pradesh) Reema Ravishankar (Kerala) Shanmuga Priya N (Tamil Nadu) Shwetha Jayaram (Kerala) Sreelakshmi C (Kerala) are the contestants. The competition was organized in full compliance with the Covid protocol.
Pic Courtesy: google/ images are subject to copyright