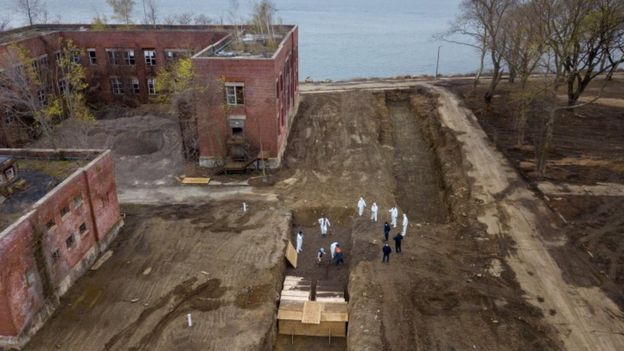 Certain new portals have published some images of a mass grave in New York City in which some who has died due to the coronavirus outbreak has been buried.

In the United States, especially in New York city, the death toll from the coronavirus outbreak continues to rise.

The graveyard which appears in the images is Hart Island, where deceased New Yorkers with no next of kin or who cannot afford a funeral are usually buried.

Notably, at this moment, the United States city of New York now has more coronavirus cases than any single country.

The state's caseload of Covid-19 has reached more than 1,59,937. Unfortunately, around 7,000 have died in the state due to the virus outbreak.

Notably, around 1,53,000 cases and over 1,43,000 have been reported from Spain and Italy respectively so far. Meanwhile, China, where the virus originated, has reported around 82,000 cases so far.

The United States has reported over 4,62,000 cases and nearly 16,500 deaths so far. Internationally, over 1.6 million cases and 95,000 deaths have been reported till this moment.

Photo Courtesy: Google/ images are subject to copyright