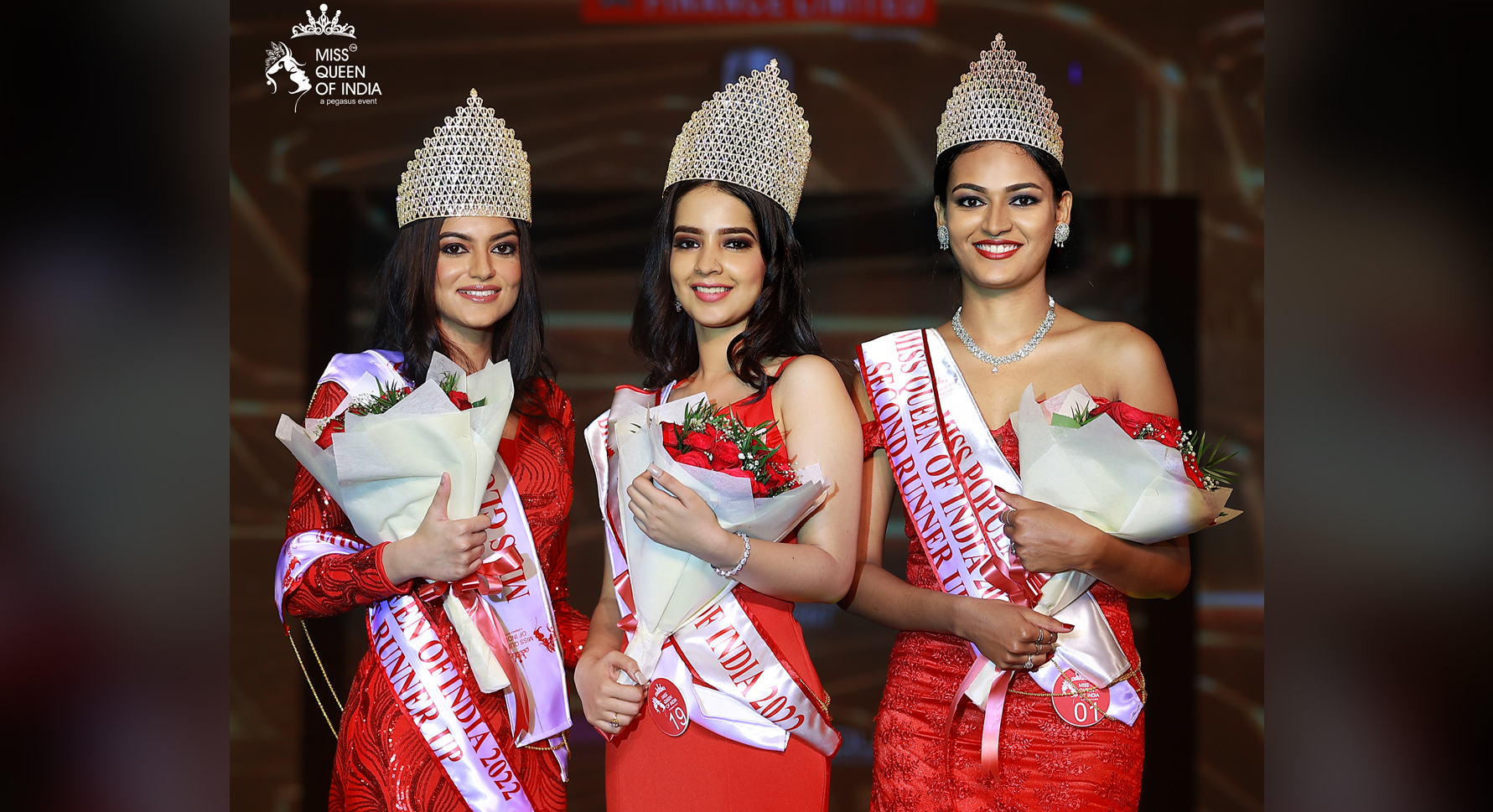 Pegasus Event Production Company marks another milestone by organizing the 11th edition of Miss Queen of India. Manappuram Finance Ltd and DQUE present Miss Queen of India 2022 title was won by Vaishnavi Sharma from Rajasthan. Meharmeet Kaur from Maharashtra earned the Miss Queen of India First Runner-up title and Abinaya Subramanian from Tamil Nadu won the Miss Queen of India 2nd Runner-up title. Miss Queen of India 2022 was conducted on March 19th at Le Meridian Kochi. Dr Ajit Ravi Pegasus, Chairman of Pegasus and Mrs Jebitha Ajit, Managing Director of Pegasus Global Pvt Ltd were also present. Lakshmi Menon, actress and model crowned the title winner.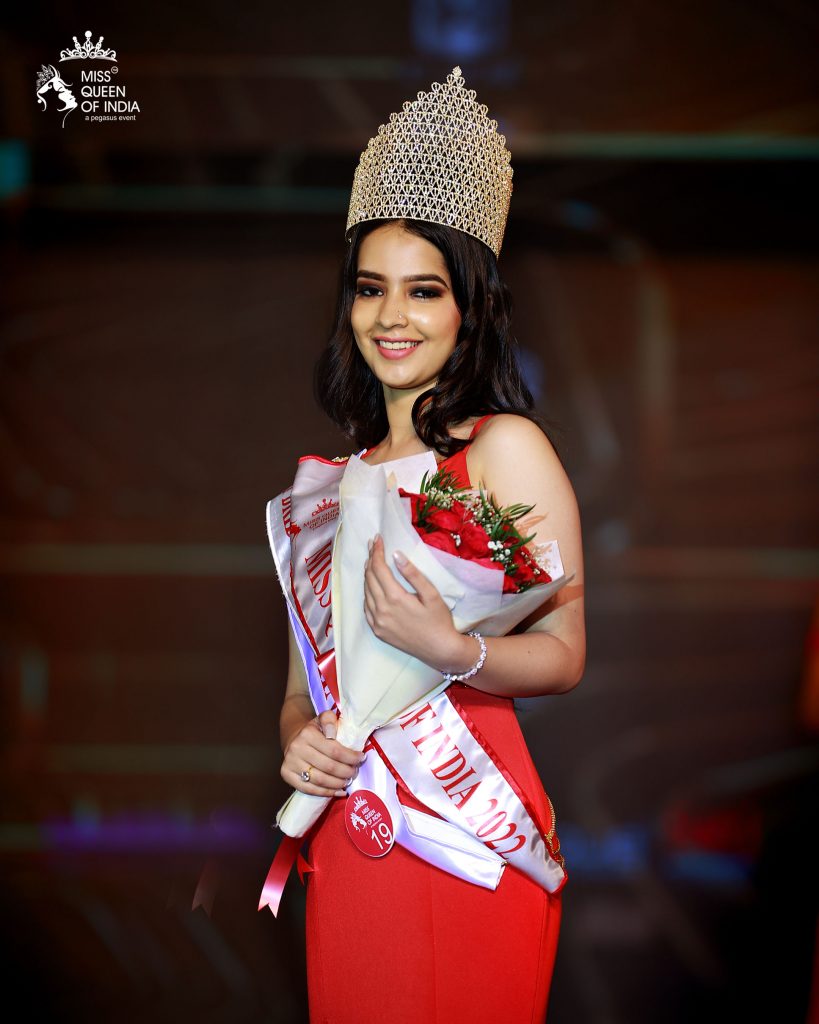 Subtitle Winners
Miss Congeniality – Shanmughapriya N
Miss Ramp Walk – Deeksha Narang
Miss Talent – Chandralekha Nath
Miss Photogenic – Gouri Gothankar
Miss Popular – Abinaya Subramanian
Miss Social Media – Shanmughapriya N
Miss Pretty Hair – Kashish Arora
Miss Glowing Skin – Meharmeet Kaur
Miss Dazzling Smile – Dachani Santha Soruban
Miss Personality – Afrin Sayeda
Chavara Matrimony.com Best Bride to be India – Vaishnavi Sharma
Regional Title Winners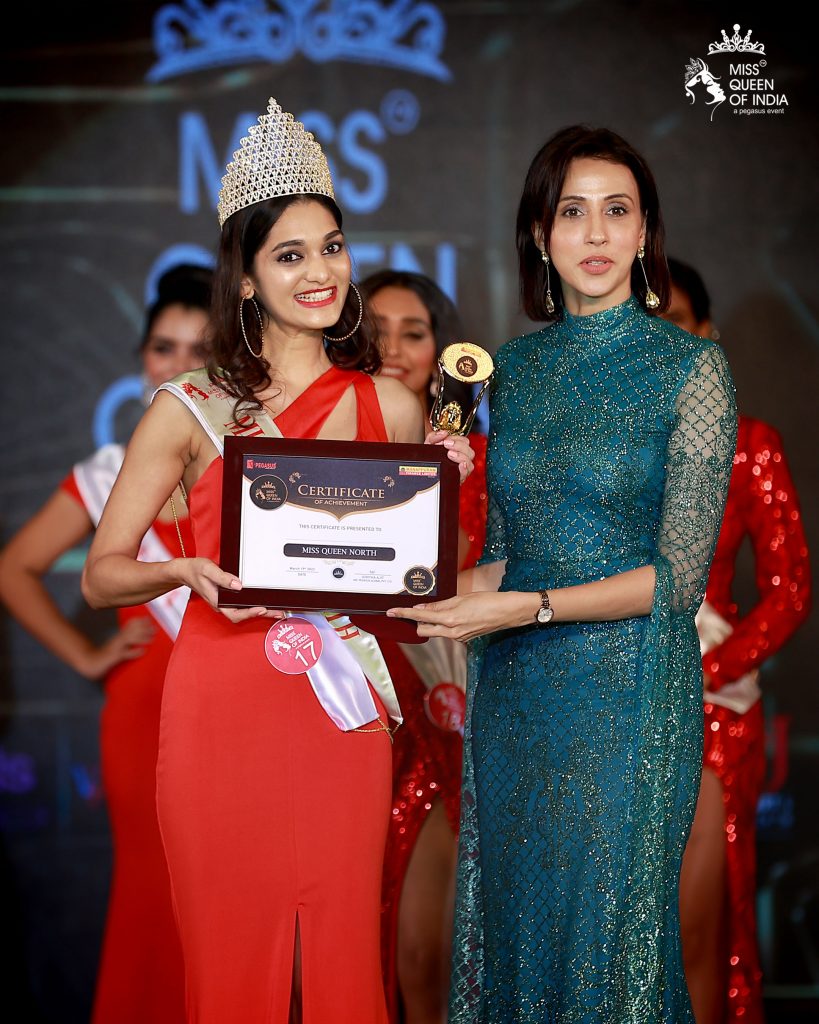 Miss Queen North – Shrutika Sharma
Miss Queen South – Shwetha Jayaram
Miss Queen West – Aqsa Varghese
The winners were crowned with a gold crown designed by Parakkat Jewelers. Model and actress Lakshmi Menon crowned the winner. Hari Anand (Fashion Designer), Lakshmi Menon (Model and Actress), Alesia Raut (Model and Grommer), and Siddhant Vir Suryavanshi (Actor and Model) was on the judging panel. The competition was organized according to the protocol set by the government in the context of the Covid spread.
The event is presented by Manappuram Finance Limited and DQUE. SAJ Earth Resorts, DQUE 78 TFM Grade One Soap, Naturals School of Makeup & VPS Lakeshore Hospital are the Powered by Partners. Co-partners are Kalpana International, Zipfit Windows, Federal International Chamber Forum, Aiswaria Outdoor Media, UT TV, Unique Times, Times New, Europe Times, UT World, Fashion Konnect, Naturals School of Makeup, Photogenic Fashion & Weddings, Udaya Sound, Juzt shine Family Fitness, Million Dots, JD Institute of Fashion Technology, Parakkat Jewels and Green Media. The competition is organized to showcase the diverse and rich cultural values of the country and to promote tourism.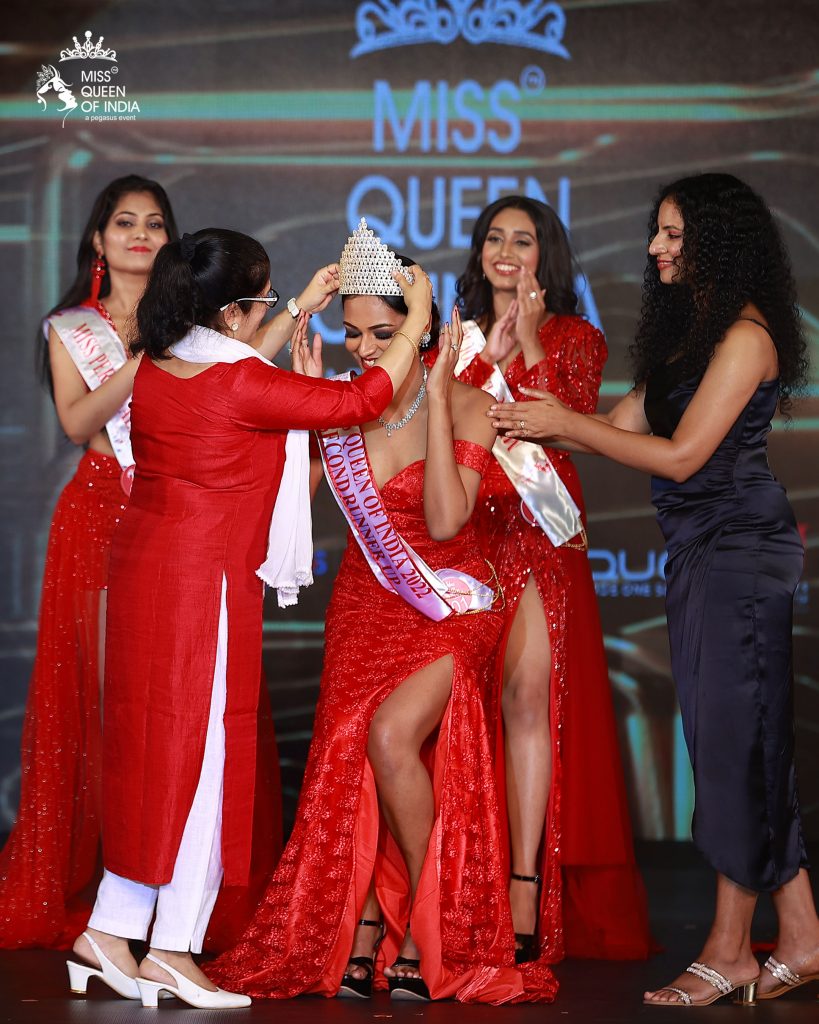 Abinaya Subramaniam from Tamilnadu, Afrin Syeda from Karnataka, Aishwarya from Rajasthan, Aqsa Varghese from Maharashtra, Chandralekha Nath from Kerala, Deeksha Narang from Maharashtra, Deepthi Srirangam from Andhrapradesh, Dhachani Santha Soruban from Tamilnadu, Gauri Gothankar from Maharashtra, Kajal Bhardwaj from Rajasthan, Kashish Arora from Delhi, Komal Singh from Rajasthan, Meharmeet Kaur from Maharashtra, Reema Ravishankar from Kerala, Shanmugha Priya N from Tamilnadu, Shruti Raul from Maharashtra, Shrutika Sharma from Uttarakhand, Swetha Jayaram from Kerala and Vaishnavi Sharma from Rajasthan were the contestants.
Pic Courtesy: pegasus photography