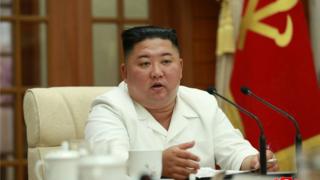 For the first time, North Korean dictator Kim Jong-un has extended a word of apology to his South Korean counterpart.
The apology has been extended in response to a military action which killed a South Korean officer.
The officer was killing while he was trying to cross the border which separate North Korea and South Korea.
The officer suffered at least ten serious bullet injuries. The action was done after he had failed to present a valid justification for his presence in the sensitive border region.
He was crossing a river with a vessel. He was killed and his body was burned along with the vessel.
The apology is of great relevance. It is the first time that the North Korean dictator has extended his apology to his South Korean counterpart.
In a statement released by South Korea, the country has explained their position. They have called their officer as a man who tried to migrate to the North.
Photo Courtesy: Google/ images are subject to copyright