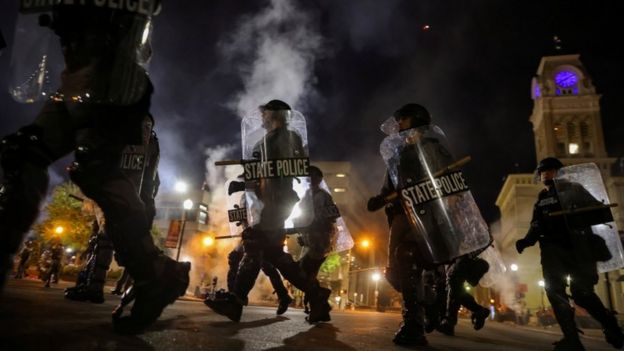 The protest which was triggered by the brutal killing of Breonna Taylor, has turned violent, as the grand jury in the city of Louisville has decided not to level any charge against the police officers who shot the black woman several times during a mistaken raid.
The victim suffered at least six serious bullet injuries.
The protest was commenced demanding justice for Ms Breonna.
Last day, a state of emergency was imposed in the region, as it was declared that the jury would soon give their opinion on whether the police officers who shot the woman should be charged or not.
It was expected that the protest would become violent if the officers were not given clean chit by the jury.
Anyway, as expected, the situation has turned violent, as soon as the decision that has, in a way, exonerated the officials from the crime they committed has become public.
At least two police officials have been injured as the protest has turned violent.
The continuing protest indicates that the authority has not lived up to the expectation of a section of society in this matter.
Anyway, it is important to mention here that it is not right to challenge the opinion of a jury using undemocratic means.
It is unjustifiable to challenge a opinion of a jury through undemocratic means when there are several democratic methods as well as judicial methods are available.
Photo Courtesy: Google/ images are subject to copyright