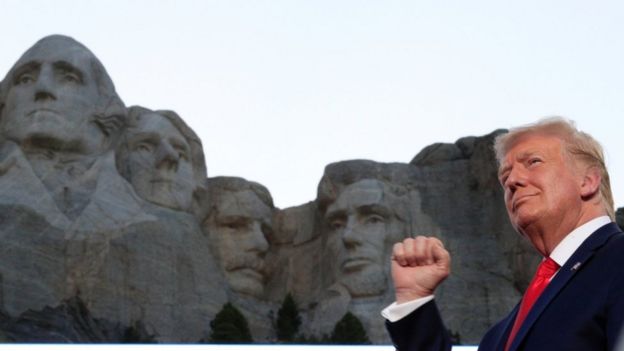 US President Donald Trump has spoken sharply against the "cancel culture" of those who toppled monuments during recent anti-racism protests.
The statement has been made in a speech organised to mark 4 July at Mount Rushmore.
During the speech at the function, he has crticised strongly those who destructed statues of Confederate leaders. He has even mocked them by calling them as angry mobs.
Notably, the president, who has been heavily criticised for his handling of the US coronavirus pandemic, has made no reference to the disease that has now taken as many as 130,000 lives in the country.
On Friday, the country recorded its largest single-day rise in coronavirus infections, bringing the total to more than 2.5 million.
The strategy is clear. The President wants his campaign to revolve around the issue of the destruction of statues and not on the matter of the failure of heath structure.
Photo Courtesy: Google/ images are subject to copyright