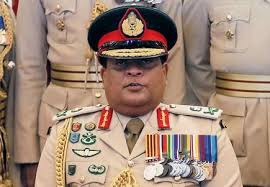 The United States has decided not to allow entry to Sri Lankan Army Chief General Shavendra Silva, who is accused of serious human right violations.

The US has named the Sri Lankan Army Chief responsible for the atrocities the Island's army has committed during the final days of its Civil War with the LTTE – the Tamil-dominated rebel force which was active in the country until its termination in the year 2009.

Washington has directed Colombo to pay justice to its commitment towards human rights.

Earlier, the induction of Mr. Silva as the chief of the Island army triggered severe criticism from across the world. Several rights groups strongly questioned the appointment of Mr. Silva.

The present Army Chief is considered as a close associate of the Mahinda family, which brought the country back to its control recently by bringing its members to the key positions like the President of the island country.

It is said that it is Mr. Silva's closeness with the Mahinda family which helped him to rise to the rank of the army chief in this abrupt manner.

Mr. Silva faces serious human right allegations. His name has found mention in several reports made on the atrocities committed against the LTTE by the Sri Lankan Army, including the one prepared by the UN.

Photo Courtesy: Google/ images are subject to copyright