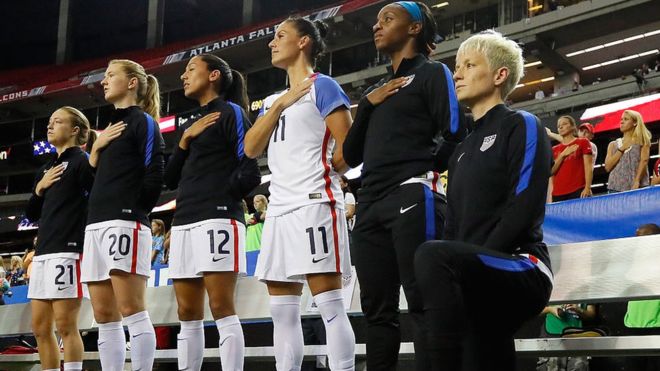 US Soccer has reversed its decision to impose a ban on players kneeling during the national anthem as a expression of protest, recognizing the right of players to express their protest in the way they wish.
The ban was organically introduced when popular star Megan Rapinoe kneeled in solidarity with player Colin Kaepernick, who introduced this kind of protest as an expression of his protest against racial injustice.
The overturn of the ban has come at the time the citizens of the North American state of the United States of America is aggressively discussing the matter of racial injustice.
Recently, a severe protest broke out in the United States, following the custodial death of a unarmed black man by a white police officer.
The incident has given rebirth to the Black Lives Matter movement – which was initiated to end the discrimination faced by the black community in the United States and elsewhere in the world.
In the coming days, more discussions are expected to happen around this matter. The decision taken by US soccer is a commendable one. It may inspire many similar forums to recognize the right to people to protest against any kind of discrimination on the basis of colour.  
Photo Courtesy: Google/ images are subject to copyright