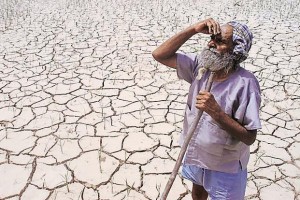 A Public Interest Litigation invited court's attention to ensure some authentic warfare-schemes to the drought hit regions. The cwrit petition was filed by Swaraj Abhiyan in the Supreme Court of India. The Petition sought that the SC should direct the central government to provide adequate compensation to the ailing farmers who were badly affected by recent drought.The nation had faced second continuous drought on the last monsoon, which marked a deficit rainfall of around fourteen percentages.
Similarly, last year's monsoon was also pathetic with a deficit rainfall of around twelve percentages. Tragically, the consecutive drought has caused malnutrition and starvation death in the rural India. The unexpected crisis in the agrarian sector has prompted the farmers to migrate for securing the daily-bread. It further mounted the debit burden on the farmers and, eventually, aggravating the farmer's life.
Reports say that, the drought severely damaged the Rabi cultivation in the country. It damaged around thirty nine present region of the country's agrarian land, report added. Experts claim that this was the third time in the current century when the agrarian sector seen continuous droughts. The drought had mainly affected eleven states – Gujarat, Jharkhand, Chhattisgarh, Odisha, Haryana, Karnataka, Madhya Pradesh, Utter Pradesh, Telangana, Andhra Pradesh, and Maharashtra.
After hearing the plea, a Supreme Court bench, headed by Justice R.K Agarwal and Madan B. Lokur, directed the centre to collect data on status of national security act, mid-day meal scheme, and rainfall ratio from the drought affected sates.
Vignesh
Photo Courtesy : Google/ images may be subject to copyright