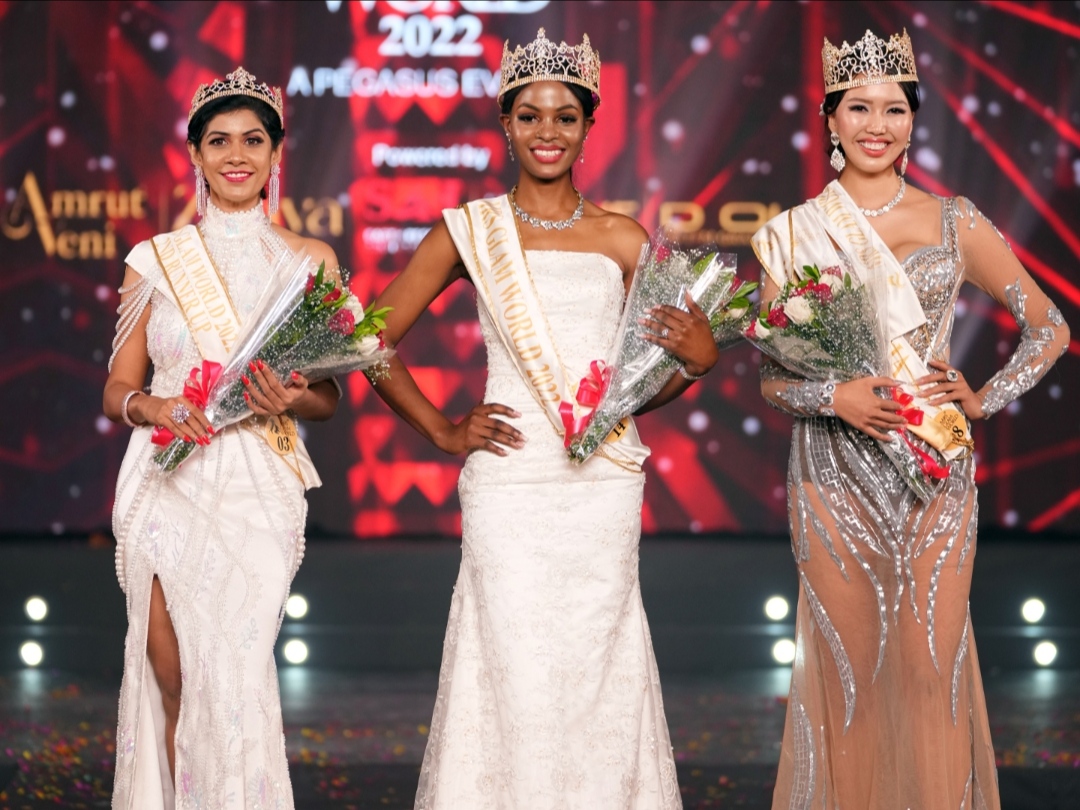 Manappuram and DQUE presents Mrs Glam World 2022 title is now owned by Zambian beauty Brandina Lubuli along with Dashbaljid Munkhzul from Mongolia as first runner-up and Kripa Dharmaraj from India as second runner-up. The first edition of Mrs Glam World was conducted on August 27th at Gokulam Convention Center, Kochi. The event was organised by one of the leading event production company in India, Pegasus Global Pvt Ltd. It's another golden feather in their book of success by introducing yet another new pageant for married women around the world.
Manappuram Finance Ltd MD and CEO V P Nandakumar crowned the winners of Mrs Glam World pageant, where 14 beauties from all around the world participated on the contest. Pegasus Chairman Dr. Ajit Ravi and Bibin, MD, Zaya The Infinity Elegance, was also present during the ceremony.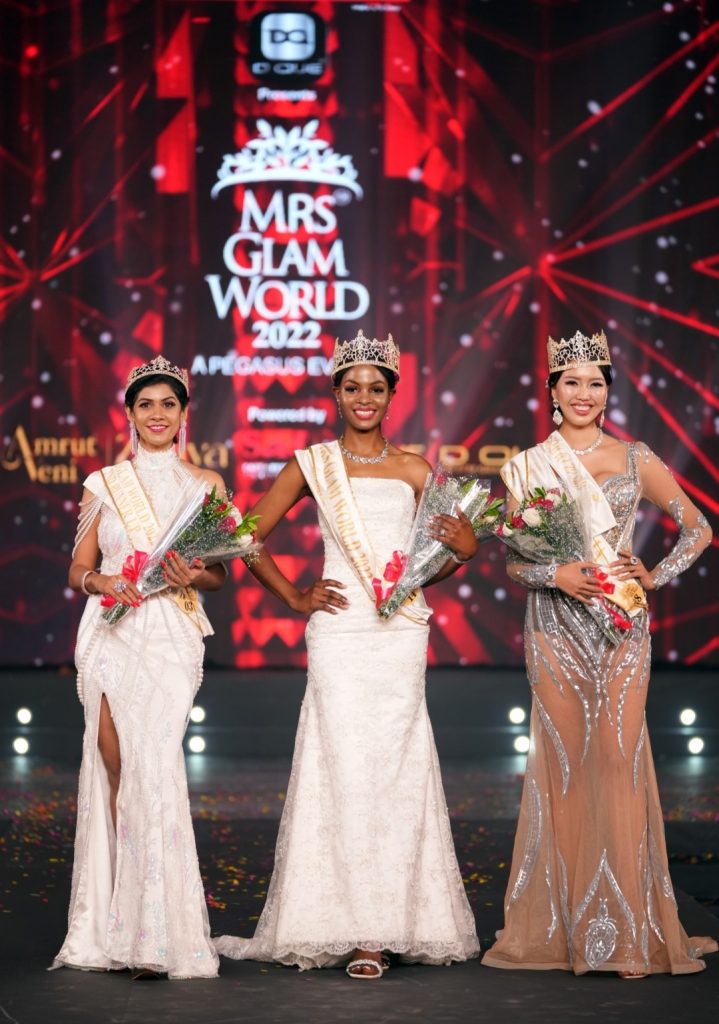 GD Singh (Entrepreneur and Philanthropist), Lucie (International Yoga Trainer), Dr Jaya Mahesh (fitness therapist), Sandeep Malani (film director) and Hari Anand (Fashion Designer) were on the judging panel. The winners of the subtitles were selected by a panel of eminent persons.
Sub Title Winners
Mrs Glam World Solidarity – Eztelle Roche Kaye
Mrs Glam World Fashionista – Tashi Yangzom
Mrs Glam World Talent – Yonela Jindela
Mrs Glam World Sensational – Eleonora Monica Massara
Mrs Glam World Diligent – Irina Pikulik
Mrs Glam World Inspiring – Agnes Angie Anak Martin
Mrs Glam World Vivacious – Kristina Verkhoturova
Mrs Glam World Shining Star – Yukari Hayashi
Mrs Glam World Best Ramp Walk – Dashbaljid Munkhzul
Mrs Glam World Tenacious – Miss Varisaon Petchsiri
Mrs Glam World National Costume – Agnes Angie Anak Martin
The winners of Mrs Glam World were presented with a gold crown designed by Parakkat Jewelers. The Mrs Glam World 2022 title winner received a DQUE gift prize of Rs 1,00,000, while the first runner up and second runner up received gift prizes of Rs 60,000 and Rs 40,000, respectively.
Manappuram Finance Limited and DQUE are the main partners of Mrs Glam World 2022 organized by Pegasus Global Pvt Ltd. Amrut Veni, SAJ Earth Resorts and Convention Center, Unique Times, and DQUE Face and Body Skin Friendly Soap are powered by Partners. The competition is organized to showcase the diverse and rich cultural values ​​of the country and promote tourism.
Co-partners are FICF, Parakkat Resort, Kalpana International, Nechupadam Dental Clinic, Times New, UT World, Aiswaria Advertisements, Europe Times, Photogenic Fashion and Weddings, UT TV, Udaya Sounds, Green Media, Juzt Shine Family Fitness, Good Day Hotels and Resorts, Akshay Inco and JD Institute of Fashion Technology.
Pegasus Global Pvt Ltd is the only company in the world who excluded the infamous Bikini round in their pageants and focuses more on talent and personality. The event was organised as per the pandemic norms set by the government.
Tashi Yangzom from Bhutan, Irina Pikulik from Estonia, Kripa Dharmaraj from India, Eleonora Monica Massara from Italy,  Yukari Hayashi from Japan, Agnes Angie Anak Martin from Malaysia,  Mariana Xochipilli Martinez Mac Kenzie from México, Dashbaljid Munkhzul from Mongolia, Evarista Elizabeth Rivas Brusquetti from Paraguay, Kristina Verkhoturova from Russia, Eztelle Roche Kaye from Singapore, Yonela Jindela from South Africa, Miss Varisaon Petchsiri ( Anny ) from Thailand and Brandina Lubuli from Zambia were the contestants.

Pic Courtesy: Pegasus photography