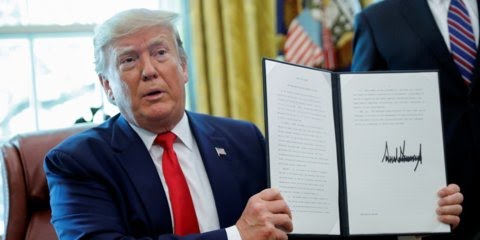 The US government, on Tuesday, imposed new sanctions on Iran which drew an intense reaction from Tehran . A senior official working for the Iranian government stated that this could mean a "permanent closure" of diplomacy between the two countries.
The newly levied sanctions were in part a response to Iran shooting down a US surveillance drone that they claim to have entered their airspace. US government says that the drone was flying in international airspace. The sanctions are directed against Iran's Supreme Leader Ayatollah Ali Khamenei and his associates. The measures deny the Ayatollah and senior Iranian officials from accessing financial resources including any assets they have in the US.
In a television appearence, Iran's president Rouhani called Trump's new sanctions "hilarious" and "a stupid and ugly act". He also remarked on the drone-shooting incident by saying that it has "raised the nation's confidence" and showed "we are not scared of the US but we have strategic patience."
US National Security Adviser John Bolton says that they are willing to enter into negotiations with the Islamic Republic. "All that Iran needs to do is walk into that open door", Bolton said in a summit in Jerusalem.
Iran's foreign ministry spokesman Abbas Mausevi responded that the sanctions are hurting the country's economy and that the US is making it difficult for the possibility of any negotiations taking place between the two countries under the present circumstances.
(Title picture credit : Business Insider)