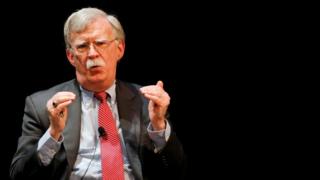 In a shocking revelation made by the former National Security Adviser John Bolton, United State President Donald Trump has sought the help of Chinese President Xi Jinping to make his re-election to the corridor of the power of the country possible.
As per the revelation, the United States has requested China to buy their agricultural products.
Notably, the controversial book has been released to the media houses of the United States of America.
Doubtfully, the release of the controversial book has been blocked by the Trump administration.
It has said that the ex-NSA has violated the law. The President has come out strongly against his ex-NSA.
The revelation of the NSA may affect the prospect of the re-election of Donald Trump.
At present, Mr. Trump is campaigning on the plank of his rivalry against China. His main campaign weapon is his anti-China rhetoric.
The revelation exposes the hollowness of the Republican leader's anti-China position.
Recently, the US President strongly attacked China over the way it handled the Covid-19 outbreak.
The country even severed its ties with the World Health Organisation, on the ground that it supported the stand of China in the issue.
China is at present at the receiving end 0f the ire of people of the US on the Covid-19 issue.
The exposed connection between Mr. Trump and Mr. Xi means the US President may have to spent a good time explaining his position in the election campaign.
Photo Courtesy: Google/ images are subject to copyright